Neck Rejuvenation
Patients often express an interest in restoring the neck of their youth – a tighter, toned, and defined neck! This can be accomplished through minimally invasive or more traditional surgical techniques. Our board-certified plastic surgeon, Dr. Max Lehfeldt, offers the latest technology to enhance and restore improved neck contour.
Neck Rejuvenation Options
Minimally invasive approaches to neck rejuvenation include Precision TX – a laser-based technique that allows for improved jawline definition, reduction of jowls, tightening/toning of neck skin, and reduction of neck fat. Precision TX is performed in-office with local anesthesia and oral medications. Only three 1mm incisions are required! Recovery is about 5-7 days.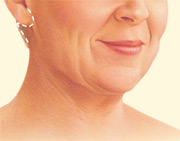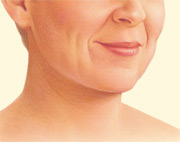 Neck lift surgery involves an incision behind the ear and below the chin. This allows for release of neck "bands" along with tightening the neck muscles (platysmaplasty), and allows for removal of excess neck skin, fat, and wrinkles. Surgical neck lift provides more dramatic neck contour improvement.
In some circumstances, Dr. Lehfeldt will suggest using SERI Scaffold silk soft tissue support to provide an even more dramatic neck contour improvement that lasts for years! Dr. Lehfeldt was the first surgeon to perform the SERI Scaffold Neck Lift with great success. He has presented his results at national plastic surgery meetings and has co-authored papers on this unique technique. Dr. Lehfeldt's approach has been professionally filmed and distributed for surgeon educational purposes. Using SERI Scaffold for neck lift allows Dr. Lehfeldt to enhance the definition of the neck like no other! This specialized surgical technique is absolutely cutting-edge and revolutionary and may reduce the need for additional surgery in the neck for years.
Please call 888.96.DR.MAX (888.963.7629) or email to schedule your neck lift consultation with Dr. Lehfeldt.