Thigh Lift
Thigh lifting is an effective way to reshape the excess tissue and fat of the inner thigh. Liposuction of the thigh area is often combined with thigh lifting. Massive weight loss patients often benefit from a thigh lift along with more normal weight patients that have isolated thigh laxity. The location of the thigh lift scar is often in the groin crease extending to the posterior buttock crease. Sometimes an incision down the inner thigh is required for the best cosmetic result. Dr. Max Lehfeldt will evaluate your thighs and help guide you regarding the best choice of incision.
Thigh lifting can often be combined with other procedures of the breast or body. Dr. Lehfeldt has perfected his thigh lifting technique to maximize the contour improvement and symmetry while simultaneously concealing the scars as much as possible. Thigh lifting is an outpatient procedure that may require a couple of weeks of recovery and may require drains for a week. A thigh lift can dramatically change the way you fit in clothes – especially pants and shorts.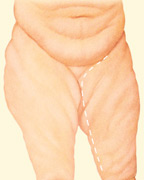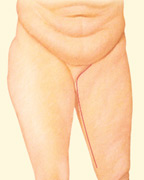 Thigh lifting allows for definitive removal of the annoying inner thigh fat and skin that rubs when you walk! Dr. Lehfeldt is eager to share his extensive thigh lifting experience with you to see if it is an appropriate solution for your concerns. Call 888.96.DR.MAX (888.963.7629) or email today to schedule your cosmetic consultation!