Tummy Tuck
Tummy tuck (abdominoplasty) is an extremely popular procedure both in our practice and throughout the country. It involves not only the removal of excess fat and skin from the lower abdomen, but also it includes tightening of the internal muscles of the abdominal wall (rectus diastasis).
Often, following childbirth, patients may have a lower abdominal "pooch" that just won't go away – even with a rigorous schedule of diet and exercise. The abdominal "pooch" or diastasis is the result of the lower abdominal muscles separating as a result of a full-term pregnancy. Even women who have not carried children can sometimes develop this frustrating abdominal "pooch". Unfortunately, no amount of abdominal wall crunches will fix this problem. The only way to get the muscles back in alignment and permanently fix the "pooch" is to surgically tighten them back up. This specialized surgical tightening is known as "plication." During your consultation, our Los Angeles-area plastic surgeon, Dr. Max Lehfeldt, will evaluate not only the excess skin and fat of your abdominal wall, but also will determine if plication and tightening of the abdominal wall muscles is right for you. Only through this approach can patients really achieve a superior postoperative contour.
Tummy Tuck Procedure
A tummy tuck allows Dr. Lehfeldt to remove areas of lower abdominal stretch marks as well. The better quality upper abdominal skin, not as affected by pregnancy and weight gain, is then brought down to fill in the gap that is created when the poor quality tissue is removed. The sculpting and re-shaping of the abdominal wall that Dr. Lehfeldt performs with all his tummy tucks may even allow him to help enhance a more feminine hourglass shape.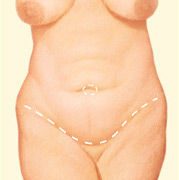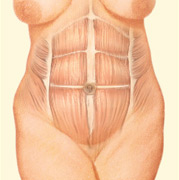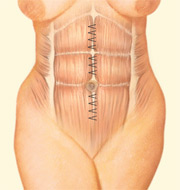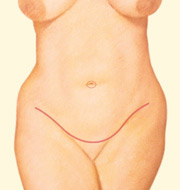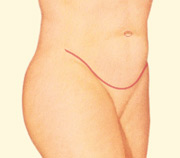 Tummy tucks often involve repositioning of the belly button to a new location. Dr. Lehfeldt prides himself on a cute, hidden, and unobtrusive scar that results from the new belly button he creates. This scar can often be a telltale of tummy tuck surgery and it is critical that the belly button be positioned accurately and the scar maximally hidden. Dr. Lehfeldt also takes pride in making sure that the scar for the tummy tuck is as low, short, and as hidden as possible. We ask that you wear a bathing suit bottom or underwear of your choice the morning of your tummy tuck surgery to help you and Dr. Lehfeldt customize the exact location and length of your incision. This attention to detail/patient desires is part of what separates Dr. Lehfeldt from the rest!
Tummy tucks can often be performed as an outpatient procedure. Other procedures such as liposuction and breast surgery can often be combined with tummy tucks. Patients undergoing tummy tuck will need anywhere from three to four weeks of recovery time. During those first couple of weeks, patients may need to sleep and walk slightly bent over to allow their bodies to heal. One to two drains may be required to evacuate normal post-operative fluid for about a week. An abdominal binder may also be used to help reduce the swelling faster and to help patients feel more comfortable.
After Your Procedure

To facilitate the most comfortable post-operative experience, Dr. Lehfeldt uses EXPAREL® for all his tummy tucks. EXPAREL® is a specialized long-acting local anesthetic that helps control pain for up to three days after surgery! It is a state-of-the-art medication that makes a big difference. Dr. Lehfeldt believes that EXPAREL® is more effective than even implantable pain pumps (On-Q) as EXPAREL® allows for better widespread distribution of the local anesthetic and there are no additional tubes or catheters. The use of EXPAREL® is yet another innovation that Dr. Lehfeldt has added to his procedures to give you the absolute best surgical experience, comfort, and results!
Dr. Lehfeldt can even repair small hernias (umbilical and ventral hernias) simultaneously with tummy tuck surgery. In these "hybrid" cases (insurance procedure for the hernia repair combined with cosmetic surgery for the tummy tuck) a patient's insurance may help defray some of the cost of the tummy tuck procedure. (Dr. Lehfeldt will bill your insurance company separately for the insurance component of the procedure). Dr. Lehfeldt's cosmetic surgery coordinator will help clarify if this is an option for you.
See if a tummy tuck with Dr. Lehfeldt is right for you! Call 888.96.DR.MAX (888.963.7629) or email for your cosmetic consultation!