Tummy Tuck
Tummy tuck surgery (abdominoplasty) is an extremely popular procedure at our practice and throughout the country. It involves not only the removal of excess fat and skin from the lower abdomen, but it also includes tightening of the internal muscles of the abdominal wall (rectus diastasis). Ultimately, tummy tuck surgery from our board-certified plastic surgeon, Dr. Max Lehfeldt, can produce a flatter, firmer abdomen and address concerns that simply cannot be resolved with traditional diet and exercise routines.
What Are the Benefits of Tummy Tuck Surgery?
Tummy tuck surgery offers numerous aesthetic benefits for both women and men looking to recontour their abdomen, including:
Reduction in excess skin and fat that may be causing a "bulging" or "overhanging" appearance in the abdomen
Tighter, restored abdominal muscles
Elimination of inelastic skin and a restored firmness to the remaining skin
A flatter, more fit-looking abdomen
Dr. Max Lehfeldt can meet with you for an initial consultation to evaluate your concerns and talk about your treatment goals. If tummy tuck surgery is right for you, Dr. Lehfeldt can develop a customized treatment plan designed to meet your needs and result in beautiful new abdominal contours. Additionally, other procedures, such as liposuction and breast surgery, can often be combined with tummy tuck surgery for a more comprehensive makeover. In fact, tummy tuck surgery is one of the most frequently selected treatments to include in a full Mommy Makeover, which can address a number of aesthetic concerns for women who would like to restore their pre-pregnancy body.
Tummy Tuck and "Plication"
Often, following childbirth, patients may have a lower abdominal "pooch" that just won't go away, even with a rigorous schedule of diet and exercise. The abdominal "pooch", or diastasis, is likely due to the lower abdominal muscles separating as a result of a full-term pregnancy. Even women who have not carried children can sometimes develop this frustrating abdominal "pooch." Unfortunately, no amount of abdominal wall crunches will fix this problem. The only way to get the muscles back in alignment and permanently fix the "pooch" is to surgically tighten them back up. This specialized surgical tightening is known as "plication." During your consultation, Dr. Lehfeldt will evaluate not only the excess skin and fat of your abdominal wall, but will also determine if plication and tightening of the abdominal wall muscles is right for you. Only through this approach can patients really achieve a superior post-operative contour.
Will I Need Abdominoplasty or Liposuction to Achieve My Goals?
Both abdominoplasty (tummy tuck surgery) and liposuction are popular and effective treatments for abdominal contouring. In many cases, liposuctionis an additional component of tummy tuck surgery, allowing our plastic surgeon to remove excess fat cells that, along with excess skin, may be contributing to the aesthetic concern in the abdomen. Some patients may only require one or the other. If excess skin and loose musculature is the primary cause of the concern, abdominoplasty alone may be sufficient. If the concern is mainly due to a collection of excess fat in the abdominal region, liposuction may be all that is necessary to produce an improved contour. Dr. Lehfeldt can discuss each procedure with you during the consultation and determine whether abdominoplasty, liposuction, or a combination of both is best for your unique needs.
Can a Tummy Tuck Get Rid of Stretch Marks?
A tummy tuck can completely eliminate stretch marks if they are present in a lower area of the abdomen where that skin is targeted for removal. In cases where stretch marks appear on upper regions of the abdomen or on the sides, a tummy tuck will likely not have a significant effect. If stretch marks are of particular concern to you and their location makes it virtually impossible for a tummy tuck to produce a noticeable improvement, Dr. Lehfeldt can talk with you about other treatments that may be ideal for diminishing their appearance.
What Is the Tummy Tuck Procedure Like?
Tummy tuck surgery can often be performed as an outpatient procedure. General anesthesia will be required for this treatment. Although a full tummy tuck procedure typically requires a hip-to-hip incision above the pubic region, Dr. Lehfeldt takes pride in making sure that the resulting scar is as low, short, and as hidden as possible. Tummy tucks also often involve repositioning of the belly button to a new location. Dr. Lehfeldt works diligently to make this scar as unobtrusive as possible. After excess skin is removed, the better-quality upper abdominal skin that is not as affected by pregnancy and weight gain is then brought down to fill in the gap created when the poor-quality tissue is excised. The sculpting and reshaping of the abdominal wall that Dr. Lehfeldt performs with all his tummy tucks may even allow him to help enhance a more feminine hourglass shape. Ultimately, the removal of excess skin and the redraping of the remaining skin can create a much firmer and flatter look to the abdomen.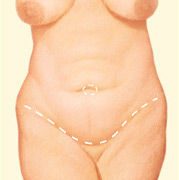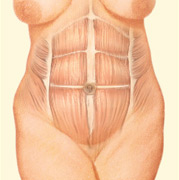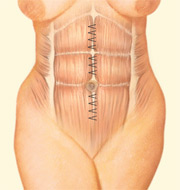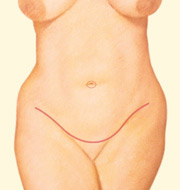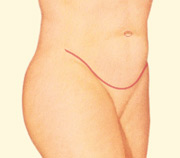 We ask that you wear a bathing suit bottom or underwear of your choice the morning of your tummy tuck surgery to help you and Dr. Lehfeldt customize the exact location and length of your incision. This attention to detail and to patient desires is part of what separates Dr. Lehfeldt from the rest!
Small Hernia Repair
Dr. Lehfeldt can even repair small hernias (umbilical and ventral hernias) simultaneously with tummy tuck surgery. In these "hybrid" cases (an insurance procedure for the hernia repair combined with cosmetic surgery for the tummy tuck), a patient's insurance may help defray some of the cost of the tummy tuck procedure. (Dr. Lehfeldt will bill your insurance company separately for the insurance component of the procedure). Dr. Lehfeldt's cosmetic surgery coordinator will help clarify if this is an option for you.
What Is the Tummy Tuck Recovery Process Like?
Patients undergoing tummy tuck will need anywhere from three to four weeks of recovery time. During those first couple of weeks, patients may need to sleep and walk slightly bent over to allow their bodies to heal. One to two drains may be required to evacuate normal post-operative fluid for about a week. An abdominal binder may also be used to help reduce the swelling faster and to help patients feel more comfortable.
EXPAREL® for Enhanced Comfort

To facilitate the most comfortable post-operative experience, Dr. Lehfeldt uses EXPAREL® for all of his tummy tuck procedures. EXPAREL® is a specialized long-acting local anesthetic that helps control pain for up to three days after surgery. It is a state-of-the-art medication that can make a big difference during the recovery period. Dr. Lehfeldt believes that EXPAREL® is even more effective than implantable pain pumps since EXPAREL® allows for better widespread distribution of the local anesthetic and there are no additional tubes or catheters. The use of EXPAREL® is yet another innovation that Dr. Lehfeldt has added to his procedures to give you the absolute best surgical experience, comfort, and results possible.
How Noticeable Are Tummy Tuck Scars?
The most noticeable scar from a full tummy tuck surgery typically appears from one hip to the other just above the pubic area. Abdominoplasty requires major surgery and scarring from this procedure is inevitable; however, Dr. Lehfeldt is extensively experienced with this treatment and utilizes techniques that can make the resulting scar easily concealable under clothing, including swimwear. Additionally, tummy tuck scars should fade in appearance to some degree over time.
How Much Does a Tummy Tuck Cost?
The cost of tummy tuck surgery can vary significantly among individuals since this procedure is customized for each patient; therefore, the total price is often quite different depending on the particulars of the treatment plan. Factors that will be taken into account for the total cost of tummy tuck surgery include the complexity and extent of treatment, fees for the surgeon, operating facility, and anesthesia, whether additional procedures are being combined with tummy tuck surgery, and other components. Once your treatment plan has been developed, a member of our team here at Teleos Plastic Surgery will calculate an estimate of the full cost, including all associated expenses, and present it to you for review. We will be happy to discuss the many payment methods available at our practice, which include convenient plastic surgery financing options for qualified applicants.
Ready to find out if a tummy tuck is right for you! Call 888.96.DR.MAX (888.963.7629) or fill out our online contact form with any questions you may have, or to schedule a consultation!