Breast Lift with Implants
After losing weight or breast-feeding, many women have breasts that have lost volume and whose nipples are lower than they were when they were younger. In order to make breasts perkier, fuller, and nipples higher, breasts can sometimes be "lifted" utilizing breast implants.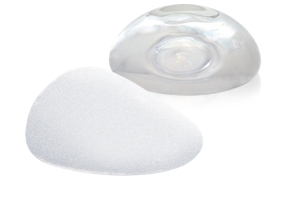 Breasts can be lifted using implants only in select situations. The advantage of this approach is that it avoids more extensive breast scarring associated with breast lift techniques. Patients who want larger breasts who have nipples that are minimally low (1-2 cm) may benefit from a breast lift with a breast implant. The breast implant is positioned under the breast tissue (sub-glandular) (not under the muscle/sub-muscular). The implants help fill out the skin (much like adding air to a balloon stretches out a balloon). This added volume helps distribute the skin over a larger surface area and effectively "lifts" the nipple position so that the nipples appear higher and in a better position.
Patients should have sufficient breast tissue to effectively conceal or cover the implant as this technique requires implant placement over the chest muscle and not under the muscle. Patients also need to be aware that there is a slightly increased risk for developing scar tissue around the implant in the sub-glandular location (encapsulation). Wrinkling and rippling of the skin surface can also be more pronounced with this type of implant placement.
Breast lifting with implants is a specialized approach that is appropriate for a very select group of women. We encourage you to schedule a confidential cosmetic consultation to discuss your breast lift options with our plastic surgeon, Dr. Max Lehfeldt. Please call 888.96.DR.MAX (888.963.7629) or email to make your appointment today!