Obagi Medical® Skin Care Line
Our board-certified plastic surgeon, Dr. Max Lehfeldt, truly believes in the benefits of Obagi® Medical Skin Care line! The company was founded in 1988 and is the leader in medical grade skin care. It is important to understand the difference between medical grade skin care and the skin care you can find at your local beauty supply store or department store. Obagi contains ingredients that must be prescribed by your plastic surgeon after careful analysis of your skin. These ingredients truly work and you should see a significant improvement in your skin tone, texture, and color within about 8 weeks (one cycle of skin turnover).
We offer the full line of Obagi® Medical products:
Nu-Derm® System
Condition & Enhance® System
Obagi-C® Rx System
ELASTIderm®
CLENZIderm® System
Blue Peel® Radiance
Rosaclear® System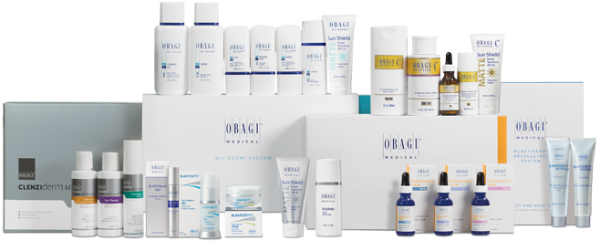 Come in today to discuss with us which Obagi® Skin Care system would work best for your skin type and skin issues.
All Obagi® Medical Skin Care products are offered to Dr. Lehfeldt's patients at a 20% OFF discount.
All Obagi® Medical Skin Care products are offered to Dr. Lehfeldt's patients at a 20% OFF discount.
Because Obagi® is a medical grade skin care line, a brief discussion with either Dr. Lehfeldt or our Physician Assistant, Vangie Luong, will be necessary to ensure safety. A few brief questions will be asked of you and then we can start you on your Obagi® skin care journey!
In addition, you may see Obagi® Skin Care on the internet for less than what it is being sold for with Dr. Lehfeldt or our "Top 20" US Medical Spa – Radiance. Why is it cheaper? Sadly, some companies are diluting or selling counterfeit or expired product. Obagi® is working hard to "police" these companies, however, your safest route of ensuring that the product you are purchasing is truly Obagi® is to purchase it from a reputable source such as Dr. Lehfeldt or Radiance Medical Spa.
Please call us 888.DR.MAX (888.963.7629) or email to see if Obagi® is right for you! In addition, you can stop by our medical spa – Radiance in La Cañada – to see if you would like to start using Obagi® Medical Grade Skin Care line.