JUVÉDERM®
You keep hearing everyone talking about "fillers" but you are too embarrassed or scared to ask, "What is a filler?!?"

Dermal fillers are products that help us age gracefully. As the years accumulate, we tend to get wrinkles and our face appears older. What is actually occurring is that your face, skin, and underlying structures are losing volume. That volume is composed predominantly of water that is held in place by a lattice or matrix. That matrix in nature is made of hyaluronic acid. When we use fillers, we are mimicking our body's own building blocks. JUVÉDERM® is the first FDA-approved, hyaluronic acid dermal filler.
JUVÉDERM® is an ideal filler as it is manufactured with Hylacross technology for an ultra smooth-consistency gel; this will result in a more natural aesthetic once injected. In addition, it has improved comfort during the treatment as it is infused with lidocaine (a numbing medicine). Naturally improved results that are noticeable immediately. As Allergan (the manufacturer of JUVÉDERM®) says, "Everyone will notice, but no one will know."
JUVÉDERM® is ideal for rejuvenating smile lines (parenthesis lines, from your lateral nose to your lip), marionette lines (from your lateral lip to your jaw), and vertical lip lines.
JUVÉDERM® Patient Results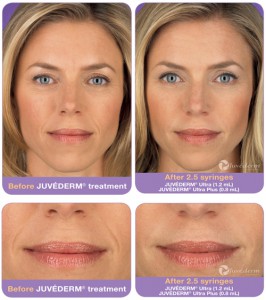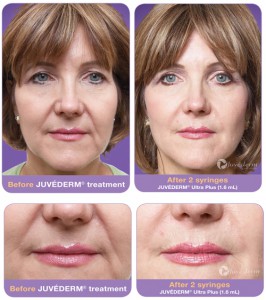 You are welcome to come in for a cosmetic consultation with our plastic surgeon, Dr. Max Lehfeldt, to see if you would be an ideal candidate for JUVÉDERM® fine line filler! Call 888.96.DR.MAX (888.963.7629) or email.