Tattoo Removal with PicoSure™
PicoSure™ is the absolute cutting edge technology for the removal of tattoos and pigmented skin spots.
Our board-certified plastic surgeon, Dr. Max Lehfeldt, is at the forefront for advanced treatment technologies not only in surgery but also in noninvasive treatments. PicoSure™ epitomizes our unyielding commitment to the latest and greatest treatment options for our patients. PicoSure™ uses ultra-short picosecond pulses of energy. The unique PressureWave created by the PicoSure™ pulses shatters tattoo ink and brown spots (even melasma!) with significantly fewer treatments, greater clearance, faster recovery, and with lower risk of burns.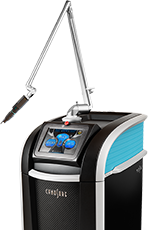 PicoSure™ works regardless of tattoo color — even difficult pigments such as blues and greens along with previously treated tattoos can be effectively removed in mere seconds with half the number of treatments. PicoSure™ has set the new standard for tattoo and pigmented lesion removal. PicoSure™ technology is extremely rare and advanced – very few lasers exist in the US let alone the Los Angeles area and we have ONE!
There are a lot of tattoo removal lasers but none compares to the efficacy, efficiency, and safety of PicoSure™. PicoSure™ is the absolute best laser for tattoo removal and skin spot removal.