Breast Augmentation
Many women consider breast augmentation to enhance their breast size. There are many options, and the best plan is to come in for a cosmetic consultation with our board-certified plastic surgeon, Dr. Max Lehfeldt, who can go over your best options. Scheduling a consultation will allow Dr. Lehfeldt to use the options available to customize the best surgical result for you!
There are three types of breast implants available – SALINE (sterile salt water filled), SILICONE, and ANATOMICAL SHAPED silicone gel implants – the "410 Shaped Gel Implant". One "subtype" of silicone breast implants is the new high fill INSPIRA breast implants.  And finally, an option that Dr. Lehfeldt also offers to ideal candidates is a NON-implant natural breast augmentation with fat transfer.
SALINE-filled implants are silicone shells that are filled with saline (sterile salt water). Women must be at least 18 years old to have saline breast implants.
| PROS: | CONS: |
| --- | --- |
| Salt-water filled (if the implant were to break (rare) the water is absorbed by your body) | Not as "soft" or "natural" feeling as silicone gel implants |
| Smallest incision (implant is inserted deflated) | Associated with higher rates of wrinkling/rippling especially in thin-tissue patients |
| Implant volume (saline filled) can be adjusted in surgery | Slightly higher rate of scar tissue formation around the implant (encapsulation) |
| Lowest cost/most affordable | |
SILICONE-filled implants are silicone shells filled with "cohesive" silicone. Silicone implants have been FDA-approved for use since 2006. Women must be at least 22 years old to receive silicone breast implants.
| PROS: | CONS: |
| --- | --- |
| Most accurately resembles the soft feel of natural breast tissue | Slightly larger incision (gel implants are placed full size/inflated) |
| Less potential for wrinkling/rippling | Slightly higher cost |
| Lower rates of scar tissue formation around the implant (encapsulation) | |
| Thick "cohesive gel" does not migrate through the body if the implant shell were to break (rare) | |
| Validated safety – NOT associated with autoimmune disease, breast cancer, etc. | |
Dr. Lehfeldt uses Allergan Natrelle® breast implants exclusively. These devices are backed by an implant warranty that ensures device replacement for as long as you have your implants. In the unlikely event that your saline or silicone gel implant were to rupture/break, Allergan will give you new implants for FREE! In addition, if your implants break within the first 10 years, Allergan will provide additional financial support, along with new free implants, to help offset the costs of replacement surgery.

Allergan Natrelle® implants set the industry standard not only for quality/performance but also for customer support! This unique warranty support provides patients great peace of mind. Dr. Lehfeldt, in partnership with Allergan, is absolutely dedicated to your success and will be with you every step of the way!
Three of the most exciting breast implant styles currently available include the new TruForm3 round cohesive gel, the Natrelle 410 anatomically shaped cohesive gel, and the high fill Natrelle INSPIRATM breast implant.
TruForm® 3 Breast Implants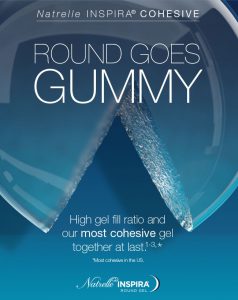 Dr. Max Lehfeldt will be amongst the first to receive the new TruForm 3 breast implants from Allergan! These are the amazing new round Natrelle Inspira Cohesive breast implants! These revolutionary new implants have not only a high gel fill ratio but also a cohesive ("gummy bear") gel that will stay in place and maintain upper pole breast fullness. The cohesive silicone gel has a consistency like a gummy bear or jelly that means the gel stays put!
These new implants are round in shape! The other amazing "gummy bear" implants are the 410 implants which are anatomically shaped.
Are you ready to go gummy? Contact us for a cosmetic consultation with Dr. Max Lehfeldt! We offer Vectra 3-D simulation so that you may see what your breasts will look like during your initial consultation (even before surgery).
Natrelle® 410 Shaped Gel Implant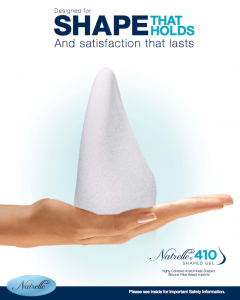 You have heard of the "Gummy Bear" breast implants – highly cohesive, anatomically shaped, silicone-filled breast implants – and they are now FDA-approved and available to all patients! Designed with a shape that mirrors a woman's real curves, these breast implants give women a natural breast shape that holds. A "one breast feel" – where the implant feels like part of your body, is a unique characteristic of 410 implants.
The Natrelle® 410 Shaped Gel Breast Implant has over 20 years of positive results in Europe. This implant was designed to maintain its shape yet still be soft and natural feeling. In addition, these shaped gel implants have a 69% lower capsular contraction rate than round, silicone-filled breast implants. (Capsular contracture is the #1 reason for reoperation).
Women with breast implants often complain of rippling and wrinkling of the implant under the skin; with the new 410 shaped gel implants, there is less than 1% wrinkling/rippling!
Come in today for your cosmetic consultation with Dr. Lehfeldt for the "#1 selected shaped implant by surgeons", with a 96.5% satisfaction at 7 years and selected 2 to 1 for "most natural feel".
Natrelle INSPIRA® Breast Implants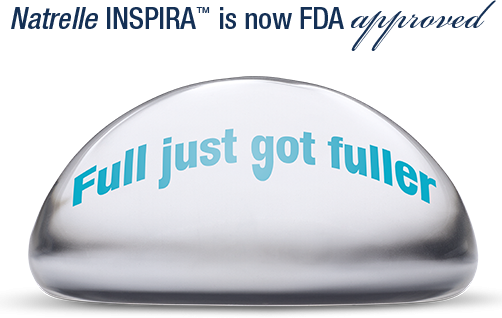 Dr. Lehfeldt is among the first board-certified plastic surgeons to use this recently FDA-approved breast implant! To determine if Natrelle INSPIRA breast implants may be right for your cosmetic goals, please schedule a consultation with Dr. Lehfeldt.
The new Natrelle INSPIRA breast implant is SILICONE gel-filled. These new implants offer an exciting option for women who want a fuller, greater projection of their breasts.  The INSPIRA has a higher "fill ratio" than the standard silicone gel breast implant.
Breast Augmentation Technique
There are a lot of choices regarding breast augmentation. Selection of the appropriate implant, type, and size is just the beginning. Dr. Lehfeldt has a wealth of experience in breast augmentation procedures and will help guide you step by step through your decision-making process.
Implants can be positioned in two locations: above the muscle or below the muscle. For the vast majority of patients, a below the muscle placement is the best option. Extensive research and Dr. Lehfeldt's personal surgical experience has demonstrated that there is less scar tissue formation, less ability to feel the edges of the implant, less ability to see the edges of the implant, and a more natural lasting result with an implant placed below the muscle. This is particularly critical for small breasted and thin patients desiring a more "natural" look following breast augmentation surgery.
Implants can also be positioned above the muscle in unique circumstances. Patients best suited for this approach have sufficient breast tissue to cover the implant on top of the muscle. The main advantage to an above the muscle implant is that there is less pain postoperatively, no disruption of the pectoralis muscle, and (depending on the implant size) a small degree of nipple lift can be achieved without additional scars. However, there are higher risks for scar tissue formation around the implant, a greater degree of palpability, and a greater chance for rippling and wrinkling especially when using saline implants.