Breast Augmentation
Breast augmentation surgery, commonly referred to as "breast enlargement," is designed to increase the size of the breasts and enhance their shape. These procedures typically require the placement of breast implants to enlarge the breasts; however, some patients may be candidates for a technique that relocates excess fat cells from a different area of the body to the breasts in order to create an "all-natural" breast augmentation without the need for implants. Regardless of the specific breast augmentation technique, this treatment has remained one of the most popular surgical cosmetic enhancement options for many years. Our board-certified plastic surgeon, Max Lehfeldt, MD, customizes all breast augmentation procedures to create results that meet expectations while appearing as natural as possible.
There are a lot of choices regarding breast augmentation. Selection of the appropriate implant, type, and size is just the beginning. Dr. Lehfeldt has a wealth of experience in breast augmentation procedures and will help guide you step by step through your decision-making process.
The information below can help you obtain a better understanding of the breast augmentation procedure and what you can expect from the treatment process. If you have additional questions, or if you would like to schedule a complimentary consultation with Dr. Lehfeldt, please contact Teleos Plastic Surgery.
What Are the Benefits of Breast Augmentation?
Breast augmentation offers an incredible range of aesthetic benefits. This procedure can be an excellent option for women who would like to:
Add volume and fullness to the breasts
Significantly or moderately enhance breast size
Improve breast shape, symmetry, and balance among overall body proportions
Restore breast volume that has diminished over time due to pregnancy, weight loss, or the natural aging process
During your complimentary consultation with Dr. Max Lehfeldt, we can show you a simulation of the potential results of your breast augmentation using advanced VECTRA® 3-D imaging technology. This simulation can give you a general idea of what your breast augmentation outcome may look like before you've even had the surgery.
Breast augmentation can be performed on its own, or it can be combined with other procedures for a more comprehensive makeover. Breast lift with implants or adjunctive body contouring options such as liposuction are common procedures that can produce additional aesthetic enhancement. Plus, breast augmentation is a popular addition to full Mommy Makeover procedures. Dr. Lehfeldt can talk with you about your goals and answer any questions you may have during the initial consultation.
Am I a Candidate for Breast Augmentation?
Many women consider breast augmentation to enhance their breast size. Ideal candidates for breast augmentation include women who desire larger, fuller breasts and an improved shape and symmetry. Patients interested in this procedure should be in reasonably good overall health. There is technically no upper age limit for breast augmentation. In fact, patients well beyond their 40s have successfully undergone this procedure. Dr. Lehfeldt will evaluate your candidacy for breast augmentation based on your medical history, specific enhancement goals and expectations, current health, the condition of your skin, and other factors. If breast augmentation is the best treatment for your needs, Dr. Lehfeldt can explore the many options available during your complimentary consultation and create a customized treatment plan designed to achieve your goals with exceptional results.
What Are the Pros and Cons of the Various Breast Implant Types?
There are three major types of breast implants available: saline (sterile saltwater-filled); silicone; and anatomically-shaped silicone gel implants such as the Natrelle® 410 Shaped Gel Implant. One "subtype" of silicone breast implants is the new high-fill INSPIRA® breast implants. Additionally, some individuals may be ideal candidates for a breast enlargement technique called breast augmentation with fat transfer, which does not require implants to add volume to the breasts.
Saline Breast Implants
Saline-filled implants are silicone shells that are filled with saline (sterile saltwater). Women must be at least 18 years old to have saline breast implants.

| PROS: | CONS: |
| --- | --- |
| Salt-water filled (if the implant were to break (rare) the water is absorbed by your body) | Not as "soft" or "natural" feeling as silicone gel implants |
| Smallest incision (implant is inserted in a deflated state and subsequently filled) | Associated with higher rates of wrinkling/rippling especially in thin-tissue patients |
| Implant volume (saline-filled) can be adjusted in surgery | Slightly higher rate of scar tissue formation around the implant (encapsulation) |
| Lowest cost/most affordable | |
Silicone Breast Implants
Silicone-filled implants are silicone shells filled with "cohesive" silicone. Silicone implants have been FDA-approved for use since 2006. Women must be at least 22 years old to receive silicone breast implants.

| PROS: | CONS: |
| --- | --- |
| Most accurately resembles the soft feel of natural breast tissue | Slightly larger incision (gel implants are placed full size/inflated) |
| Less potential for wrinkling/rippling | Slightly higher cost |
| Lower rates of scar tissue formation around the implant (encapsulation) | |
| Thick "cohesive gel" does not migrate through the body if the implant shell were to break (rare) | |
Dr. Lehfeldt uses Allergan Natrelle® breast implants exclusively. These devices are backed by an implant warranty that ensures device replacement for as long as you have your implants. In the unlikely event that your saline or silicone gel implant were to rupture/break, Allergan will give you new implants for free. In addition, if your implants break within the first 10 years, Allergan will provide additional financial support, along with new free implants, to help offset the costs of breast implant replacement surgery.

Allergan Natrelle® implants set the industry standard not only for quality/performance but also for customer support. This unique warranty support provides patients great peace of mind. Dr. Lehfeldt, in partnership with Allergan, is absolutely dedicated to your success and will be with you every step of the way.
Additional Breast Implant Options
Three of the most exciting breast implant styles currently available include the TruForm® 3 round cohesive gel implant, the Natrelle® 410 anatomically shaped cohesive gel implant, and the high-fill Natrelle® INSPIRA® breast implant.
TruForm® 3 Breast Implants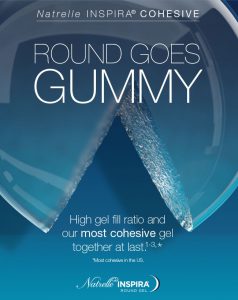 Dr. Max Lehfeldt is among the first to receive the TruForm® 3 breast implants from Allergan. These are the amazing round Natrelle® Inspira® cohesive breast implants! These revolutionary implants have not only a high gel-fill ratio, but also a cohesive ("gummy bear") gel that will stay in place and maintain upper pole breast fullness. The cohesive silicone gel has a consistency like a gummy bear or jelly—that means the gel stays put!
Natrelle® 410 Shaped Gel Implant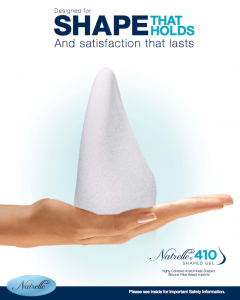 Natrelle® 410 Shaped Gel Implants are essentially "gummy bear" breast implants – highly cohesive, anatomically shaped, silicone-filled breast implants. They are designed with a shape that mirrors a woman's real curves, allowing for a natural breast shape that holds. A "one breast feel" – where the implant feels like part of your body, is a unique characteristic of 410 implants.
The Natrelle® 410 Shaped Gel Breast Implant has over 20 years of positive results in Europe. This implant was designed to maintain its shape yet still have a soft and natural feeling. In addition, these shaped gel implants have a 69% lower capsular contraction rate than round, silicone-filled breast implants (capsular contracture is the #1 reason for reoperation). Plus, women with breast implants sometimes complain of rippling and wrinkling of the implant under the skin; with the new 410 shaped gel implants, there is less than 1% wrinkling/rippling.
Natrelle® INSPIRA® Breast Implants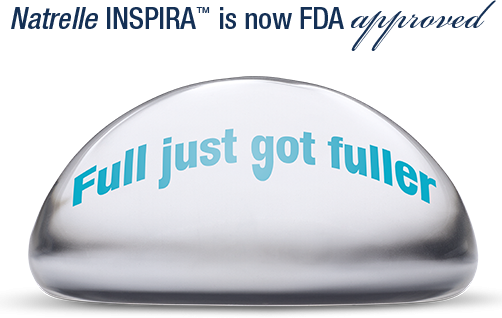 Dr. Lehfeldt is among the first board-certified plastic surgeons to use this breast implant. The Natrelle® INSPIRA® breast implant is silicone gel-filled. These implants offer an exciting option for women who want a fuller, greater projection of their breasts. The INSPIRA® has a higher "fill ratio" than the standard silicone gel breast implant.
Dr. Lehfeldt can go over all of your breast implant options with you and help you determine which type, shape, and size is best for your needs.
Breast Implant Placement Locations
Implants can be positioned in two locations: above the muscle or below the muscle. For the vast majority of patients, a below-the-muscle placement is the best option. Extensive research and Dr. Lehfeldt's personal surgical experience has demonstrated that there is less scar tissue formation, less ability to feel the edges of the implant, less ability to see the edges of the implant, and a more natural lasting result with an implant placed below the muscle. This is particularly critical for small-breasted and thin patients desiring a more "natural" look following breast augmentation surgery.
Implants can also be positioned above the muscle in unique circumstances. Patients best suited for this approach have sufficient breast tissue to cover the implant on top of the muscle. The main advantage to an above-the-muscle implant is that there is less pain post-operatively, no disruption of the pectoralis muscle, and (depending on the implant size) a small degree of nipple lift can be achieved without additional scars. However, there are higher risks for scar tissue formation around the implant, a greater degree of palpability, and a greater chance for rippling and wrinkling, especially when using saline implants.
What Is Breast Augmentation with Fat Transfer?
Breast augmentation with fat transfer, sometimes referred to as "all-natural breast augmentation," is an innovative technique for breast enlargement that does not require the placement of implants to enhance breast volume. This treatment takes excess fat cells from another area of the body and injects them into the breast tissue to create a larger appearance. While breast augmentation with fat transfer is not the best option for patients who are looking to enhance their breasts by several cup sizes, this treatment can be a wonderful alternative for the right candidate.
Learn more about breast augmentation with fat transfer.
Breast Augmentation vs. Breast Lift
While breast augmentation and breast lift procedures both offer desirable options for cosmetic breast enhancement goals, the surgeries are designed for very different outcomes. Breast augmentations can be performed as either a breast augmentation with implants or as a fat transfer breast augmentation to achieve the ideal shape, size, and symmetry of breasts. Alternatively, breast lift surgery (mastopexy) rejuvenates breasts to a more youthful position and removes excess skin while tightening remaining skin for a firmer, smoother appearance. If the desired result is lifting the breasts and increasing the fullness or size of the breasts, a combination of the procedures, known as a breast lift with implants, may be recommended. During a consultation with Dr. Lehfeldt, he will complete a thorough evaluation to determine a treatment plan for the best possible aesthetic outcome.
What Does the Breast Augmentation Procedure Involve?
Breast augmentation is a procedure that requires general anesthesia; however, it is typically performed as an outpatient and should not necessitate an overnight hospital stay. The incision technique will be recommended during the initial consultation with Dr. Max Lehfeldt. In most cases, Dr. Lehfeldt will utilize the inframammary technique, which involves an incision made in the underside area of the breast where the breast skin meets the chest wall; however, other techniques that require smaller incisions may be appropriate for some patients. Dr. Lehfeldt can explore these options with you in the consultation.
After the incisions have been created, Dr. Lehfeldt will delicately place the implants in the locations outlined in the treatment plan (either beneath the muscle or over the muscle), and close the incisions with small sutures. It is important to note that, while there will be residual scarring from breast augmentation, Dr. Lehfeldt is extensively experienced with this procedure and will utilize techniques to minimize the visibility of scars as much as possible. For the inframammary breast augmentation technique, the appearance of the scars should also diminish to some degree over time.
What Can I Expect During Breast Augmentation Recovery?
After the breast augmentation procedure has been performed, it is normal to experience temporary swelling and bruising in the breasts. These effects should fade as the breasts continue to heal, and discomfort during recovery can be controlled with medication. Most patients need approximately one week of rest and recovery at home after surgery before resuming normal daily routines. It is important to avoid strenuous exercises or other activities that may stimulate or apply pressure to the breasts for at least six to eight weeks following the procedure. Dr. Lehfeldt will provide you with a detailed post-operative guide and recommendations for your unique recovery needs to maximize the potential for the safest and smoothest healing process possible.
Will My Breast Augmentation Scars Be Noticeable?
Noticeable scars will be present after the incisions from breast augmentation heal. However, Dr. Lehfeldt utilizes meticulous suturing techniques to limit their visibility as much as possible. The exact length and nature of the scarring will depend on the particular incision locations, which can be different among patients based on the surgical technique performed. In many cases, scars diminish in appearance to some extent with the passage of time.
How Long Do Breast Implants Last?
The average lifespan of breast implants today is typically at least 10 years, and in many cases 20 years or more, after the initial surgery.* The precise time frame will be different for each patient and can vary based on the strength and longevity of the implants' composition, adherence to post-surgery recovery instructions and care for the implants over time, how the body interacts with the breast implants, ruptures or other complications that may arise, and other factors. For patients who need or desire to remove/exchange their implants, a breast implant removal procedure can be performed. This treatment can remove the implants altogether or exchange them for a newer breast implant model.
Will I Be Able to Breastfeed with Breast Implants?
Breastfeeding after breast implants have been placed is possible for women who are naturally able to breastfeed. It is very important to note that a large number of women are not naturally able to breastfeed; however, those who are can potentially still nurse their children while they have breast implants. With that in mind, please be sure to let Dr. Lehfeldt know if you are planning to breastfeed in the future so he can customize the surgery in a way that minimizes potential interference with the milk ducts and maximizes the possibility of successful breastfeeding following treatment.
How Much Does Breast Augmentation Cost?
The total price of this procedure is often quite variable among patients based on factors such as the type of implants that are being placed, whether additional procedures (such as a breast lift) are being performed in tandem with the breast augmentation, fees for the surgeon, anesthesia, and use of the operating facility, and other components of the treatment process. Once the personalized breast augmentation treatment plan is developed during the initial, complimentary consultation, a knowledgeable member of our staff will calculate a total estimate that includes all expenses associated with the procedure and present it to you for review. We will be happy to talk with you about pricing and answer any questions you may have. Teleos Plastic Surgery accepts numerous methods of payment, and we work with plastic surgery financing companies that offer qualified applicants a range of helpful plans enabling patients to pay for their procedure in monthly installments. Our team can talk with you about options that are ideal for your budget.
How to Choose a Breast Augmentation Surgeon
There are many factors to consider when choosing a surgeon for breast augmentation. Prospective surgeons should have a strong background in plastic surgery education and training, as well as affiliations with major plastic surgery organizations and high levels of experience with breast augmentation surgery. Not to be overlooked is the importance of patient communication, quality of care, and aesthetic style for achieving exceptional results. Below are things to consider as you narrow down options to select a breast augmentation surgeon:
Once you have decided on your top prospective surgeons, the next step is to schedule an in-person consultation. This provides the opportunity to ask questions, evaluate your rapport with the surgeon and staff, and explore the facilities. All of the above aspects can help shape a well-rounded perspective of what may be expected from the overall treatment and surgical experience.
Additional Frequently Asked Questions About Breast Augmentation
What do breast implants feel like?
With today's advanced breast implant models, many women can experience implants that feel very natural—as close to natural breast tissue as possible. The exact type of breast implant and the precise location of the implants can have an effect on how they feel for each patient. Dr. Lehfeldt will go over all of the implant options and other details pertaining to your wishes and goals for breast augmentation during the consultation. The procedure is customized to provide results that can often appear and feel like natural breasts.
How painful is breast augmentation?
Breast augmentation is performed under general anesthesia and patients will be unconscious during the procedure itself. When the recovery period begins, it is common to experience some degree of discomfort since the breasts will be in a healing phase following surgery. Medication can be prescribed to alleviate pain during this time. The first two to three days after surgery is often the time when patients experience the most severe level of discomfort, but this should fade significantly as healing progresses. We will provide a list of post-treatment instructions that can help control residual pain and maximize the potential of achieving a smooth and effective recovery.
How much do breast implants weigh?
In general, breast implants typically do not weigh more than approximately two pounds. In fact, the total amount of weight is often less than that in many cases. The weight is primarily due to the solution inside the implant as the outer shell is very light. With that in mind, breast implants should not significantly impact a patient's overall body weight.
How can I reduce swelling after breast augmentation?
Swelling is an inevitable side effect of breast augmentation and should dissipate gradually over time. There are a few things that patients can do to help control swelling. Drinking plenty of fluids, minimizing salt intake (salt can contribute to inflammation), and eating a healthy diet full of leafy greens, lean proteins, and fruits & vegetables are some options. Also, wearing any prescribed surgical garments as directed and sitting/sleeping in an upright position may also help. It is also important to follow the post-treatment instructions closely and ensure you are not performing actions that place strain or pressure on the breasts or the incisions while healing.
What kind of bra should I wear after breast augmentation?
Dr. Lehfeldt may advise some of our breast augmentation patients to wear a special kind of support bra for a certain amount of time following the procedure. For other patients, he may recommend avoiding a bra altogether for a temporary period. The answer to this question will be specific to each patient's needs, and Dr. Lehfeldt will make a recommendation once you have been examined and your treatment plan is in place.
If you would like additional information on breast augmentation, or if you are ready to schedule your complimentary consultation with Dr. Lehfeldt, please contact Teleos Plastic Surgery today!
Medical Reference: