Our Team
Our super-friendly, approachable, and highly-skilled staff is available to assist in all aspects of your care! We aim to treat each and every patient like our own family!
Amanda Pettus – Certified Physician Assistant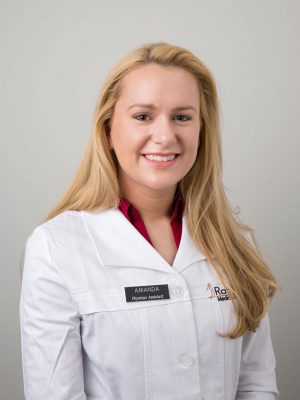 Amanda earned her Bachelor of Science in Biology at Northern Arizona University and her Masters of Science in Physician Assistant Studies at the University of New England. Amanda brings two years of surgical experience and assists Dr. Max Lehfeldt in surgery as well as in clinic. You will meet Amanda the day of your appointment with Dr. Max. Amanda is excited to bring her energy and passion for medical aesthetics to Dr. Lehfeldt's team. In her spare time, you will find Amanda outdoors – boating/being near the ocean, watching movies, reading, and spending time with family and friends. Please call 888.963.7629 or email Amanda if you have any questions.
Bernice Whitaker – Manager, Patient Care Coordinator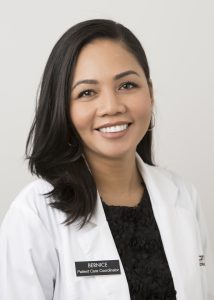 Bernice is the Patient Care Coordinator for our Pasadena office. She has over 12 years of patient care coordinating experience. When you come in for your consultation with our plastic surgeon, Dr. Lehfeldt, you will meet with Bernice and she can walk you through any additional questions you may have about your scheduled procedure. She will help you feel relaxed about your big day and coordinate anything you may need help with such as choosing your surgery location, pre-operative clearance, laboratory work that you may need, post-operative garments, and post-operative visits. Bernice is available throughout the entire surgical process. Her pleasant and engaging nature will comfort and ease any anxiety you may have regarding your treatments. Bernice's hobbies include hiking, camping, cooking, traveling, gardening, and interior design. She and her husband create and weld wine bottle chandeliers! Bernice is another dog and cat lover on our team! You can reach Bernice at the office via phone (888) 96.DR.MAX or (888) 963-7629 or email.
Cathy Clark – Radiance MedSpa Manager, Medical Assistant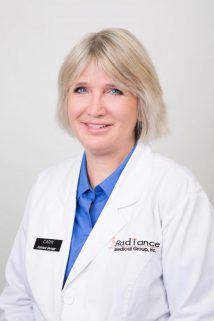 Cathy has over 25 years of experience in medical aesthetics. She is extremely knowledgeable about all the treatments and skin care products that our med spa—Radiance Laser & Cosmetic Center—has to offer. She is the cheerful voice you hear on the phone when you call to book your appointments. Please do not hesitate to ask her your questions!
Michelle Hernandez – Medical Assistant
Michelle is an experienced medical assistant with 16 years in the field of dermatology. She will be the friendly face you see during your appointment with Dr. Lehfeldt. Michelle is a busy mom of three children and a furry child. Michelle is ever positive and loves patient care and helping others. Michelle enjoys cooking (her favorite is meatloaf), baking, and reading. She is claiming title of "Best Auntie" to her nieces and nephew.