Liposuction
Liposuction, also known as "lipoplasty," is a surgical procedure that can be ideal for removing excess fat, improving body contours, and enhancing one's self-image. Many people have areas of excess fat accumulation, and no matter how much they exercise and diet, these "problem areas" do not improve. Liposuction can address these concerns by removing excess fat in specific areas of the body, ultimately recontouring these areas for a slimmer look and a renewed contour! Our experienced plastic surgeon, Dr. Max Lehfeldt, is proud to offer two types of liposuction – traditional liposuction and the in-office Smartlipo® laser technique.
The information below can give you more details on our liposuction procedures, as well as techniques designed to enhance lower facial definition and to reduce signs of cellulite. If you have additional questions, or if you would like to schedule a consultation, please contact Teleos Plastic Surgery today.
What Are the Benefits of Liposuction?
Liposuction is a procedure that is popular among both women and men. This treatment can reduce collections of excess fat in a variety of body areas, resulting in improved body contours and removal of fat that has proven resistant to traditional diet and exercise routines. Some of the most common body areas that can be treated with liposuction include:
Abdomen/waist
Love handles
Thighs
Hips
Buttocks
Arms
Neck
Back
"Bra roll"
Chest
Breasts (in both women and men)
Inner knees
Calves
Ankles
Liposuction can either be performed on its own or in conjunction with other surgical procedures, such as a facelift, tummy tuck, breast lift, or other breast surgery.
Although liposuction can reduce fatty areas of the body, it is important to note that this procedure is not meant to serve as a weight loss treatment, nor is it meant to replace a healthy lifestyle, diet, and exercise. Liposuction post-operative results can be long-lasting if you are able to limit weight fluctuations and maintain a healthy lifestyle.
Liposuction vs. Tummy Tuck Surgery
Liposuction and tummy tuck surgery (abdominoplasty) are both body contouring procedures, and both can dramatically enhance the look of the abdomen and midsection. However, there are several differences between these two popular procedures, and each is designed to accomplish separate goals. Liposuction can be an ideal option for patients who can benefit from the removal of excess fat that has collected in the abdominal area. If excess fat is the only issue causing the concern, liposuction alone may be the recommended treatment. Tummy tuck surgery is typically more ideal for patients who would like to address a collection of excess skin and loose musculature in the abdomen. A collection of excess abdominal skin along with stretched abdominal muscles can often occur after pregnancy or significant weight loss, and tummy tuck surgery is designed to correct those concerns.
For some patients, a combination of liposuction and tummy tuck surgery may be the best option for their particular needs and goals when it comes to abdominal rejuvenation. For others, either liposuction or tummy tuck surgery as a standalone procedure may be advised. Once you meet with Dr. Lehfeldt and he has the opportunity to talk with you about your concerns and examine the areas you would like to enhance, he will make a recommendation that is most suitable for your expectations.
What Does the Traditional Liposuction Procedure Involve?
Traditional liposuction is performed in the operating room with general anesthesia. Dr. Lehfeldt also offers in-office, Smartlipo® laser liposuction (described below) that does not require general anesthesia. Some patients are candidates for either traditional liposuction or in-office, Smartlipo® laser liposuction, and it is best to discuss your options with Dr. Lehfeldt at your cosmetic consultation.
In a traditional liposuction procedure, Dr. Lehfeldt will create incisions in the area where the excess fat will be extracted. In many cases, they can be made in rather discreet areas, and residual scarring is often barely noticeable since the incisions required for liposuction are typically quite small. Dr. Lehfeldt will then insert long, thin tubes called cannulas through the incisions. Gently and precisely, Dr. Lehfeldt will guide the cannulas through the treatment area while a suction mechanism removes the excess fat cells.
Although this form of liposuction will require general anesthesia, it is typically performed on an outpatient basis without the need for an overnight hospital stay.
Are There Any Liposuction Side Effects?
Side effects that commonly appear after liposuction surgery include bruising, swelling, soreness, and even a potential "numb" sensation in the areas that were treated. These effects are normal and should significantly fade over the course of the next few weeks as the area heals. There is also the possibility of weight redistribution as a long-term side effect of liposuction. This can happen due to the fact that the excess fat cells that have been removed from the area will not grow back, which can result in future weight gain that may have affected the treated area ultimately going to different areas instead. While weight redistribution is a possible long-term side effect, it is not inevitable as long as patients maintain a stable weight and avoid significant weight fluctuations after liposuction has been performed.
Our team will provide you with a detailed post-operative guideline that can help you manage side effects during the recovery process and obtain a safe and smooth recovery.
How Noticeable Are Liposuction Scars?
While it is important to remember that liposuction is a surgical procedure and will therefore produce scarring to some extent, it is also important to know that the scars from liposuction are typically very small. Plus, Dr. Lehfeldt strives to place the incisions in inconspicuous areas, which can allow for less visible scarring. The small scars that result from liposuction should also fade to some degree with the passage of time, making them even more challenging to detect.
How Much Does Liposuction Cost?
The cost of liposuction here at Teleos Plastic Surgery is quite variable among patients due to the customized nature of liposuction surgery. Factors that will be taken into account for the overall cost estimate of liposuction include the particular technique that will be performed, the number of areas being treated and the size of those areas, fees associated with the surgeon, operating facility, and anesthesia, any post-surgical garments that may be required to enhance the healing process, and other components. After you have talked with Dr. Lehfeldt during your complimentary consultation and your customized treatment plan has been developed, a member of our plastic surgery team can produce a total cost estimate of the liposuction procedure and answer any questions you may have. Our practice accepts a wide variety of payment methods to make this part of the process as convenient as possible. We also work with reputable agencies who offer plastic surgery financing plans to qualified applicants who prefer to pay for their treatment in a series of installments rather than all at once. We look forward to helping you identify the way to pay for your liposuction treatment that works best for your budgetary needs.
Additional Frequently Asked Questions About Liposuction
How much weight can you lose with liposuction?
Before undergoing liposuction, our surgeon will review realistic goals for your individual outcome. Part of that is understanding that liposuction is a body sculpting and contouring procedure, not a solution for weight loss. Ideal candidates for liposuction are actually already at or near their ideal weight and want to eliminate the stubborn fat deposits that are resistant to diet and exercise. If your primary interest is losing weight, it is best to consult with your physician or surgeon to find the best treatment plan for your desired results.
How much fat can be removed with liposuction?
The safest amount of fat that can be extracted via liposuction will be based on factors relating to an individual's overall weight and body mass index (BMI), the areas being targeted for treatment, and the risks involved with surgery. Always consult with an experienced, board-certified plastic surgeon to establish an appropriate surgical plan that meets both your aesthetic goals and general safety recommendations.
Is liposuction covered by insurance?
Generally, liposuction is not covered by insurance providers because the incentive behind the patient's decision is typically an elective cosmetic procedure as opposed to a medically necessary treatment. The team at Teleos Plastic Surgery is available to talk through the details of our payment options for this procedure, which include financing arrangements offered to qualified applicants through CareCredit® and Alphaeon™ Credit.
How old do you need to be to receive liposuction?
Patients must be at least 18 years old to receive a liposuction procedure. It is also in the best interest of the patient to be in good overall mental and physical health, have a positive self-image, set realistic surgical outcome expectations, and understand that liposuction is designed to reduce stubborn fat bulges and recontour targeted areas that do not respond to diet and exercise.
What can I do to reduce swelling after liposuction?
Although swelling is a common side effect after liposuction, most patients recover relatively quickly. Following your surgeon's post-procedure instructions should give you all of the best recommendations to mitigate mild to moderate swelling. This usually includes wearing compression garments for the prescribed amount of time, applying ice packs, taking pain medication as needed, limiting unhealthy and salty foods, and avoiding all tobacco products.
Smartlipo Triplex® Laser Body Sculpting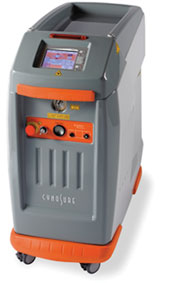 We are proud to offer our patients a revolutionary treatment that literally melts away fat with lasers while you are having liposuction. This in-office, minimally invasive treatment is done without the added risks or costs of general anesthesia, nor the added costs of the operating room.
Smartlipo® is brought to you by Cynosure – the industry's leader in laser-assisted lipolysis. Smartlipo® technology is backed by more than 10 years of clinical studies and research. A laser fiber is utilized during the procedure that directs energy to subcutaneous fat cells and destroys them. In addition, the laser energy coagulates blood vessels, typically resulting in less bruising. With reduced bleeding and minimized trauma, there is often faster healing after the procedure.
Smartlipo® utilizes three laser wavelengths that also cause tissue tightening via collagen building and collagen retraction. This ultimately enables Smartlipo® to destroy fat cells while tightening tissues for an amazing improvement in body shape along with firmer skin in the treatment area. Traditional liposuction allows patients to achieve successful removal of fat, but Smartlipo® laser liposuction adds skin tightening, as well. This key added benefit allows many patients to show off a smoother, more natural-looking, and superior aesthetic result.
Smartlipo® can be ideal for virtually all areas of the body, including the face & neck (PrecisionTx®, described below), arms, legs, and abdomen. This technique can also be an option for some patients who suffer from hyperhidrosis (excessive sweating) in the armpits. During your consultation, Dr. Lehfeldt can talk more with you about Smartlipo® and determine whether this advanced technique is right for your needs.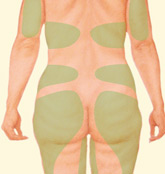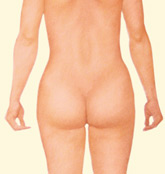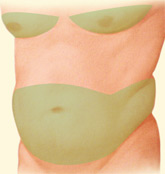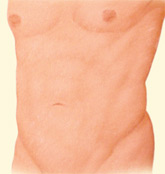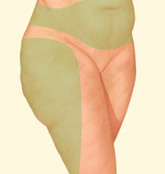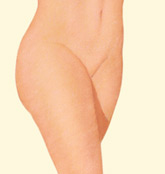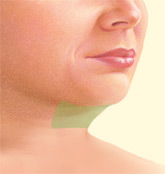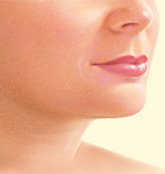 Smartlipo® is performed in our office under local anesthesia with oral medications. Many patients do not experience significant discomfort during the procedure and are up and around the same day. Most patients have minimal discomfort the next few days as the treatment area heals, and those who are off all pain medications may even drive and return to normal activities about two days after their in-office procedure. With that in mind, each individual is unique, so activity and pain levels may vary.
What Is PrecisionTx®?
PrecisionTx® offers ideal candidates a way to dramatically improve the appearance of the jawline, neck, and mid/lower face without the need for a full facelift. This state-of-the-art technique is an in-office, Smartlipo® laser liposuction procedure that can be ideal for concerns affecting the face and neck. Utilizing a proprietary laser known as SideLaze3D™, the leading manufacturer of laser-assisted lipolysis is able to bring to you technology designed to destroy excess fat, tighten skin, and result in less bruising/pain and a faster recovery. Additionally, PrecisionTx® can also treat hyperhidrosis in order to reduce excessive underarm sweat.
Recovery from PrecisionTx® treatment typically takes about five to seven days. Performed in-office with local anesthesia and oral medications, most patients have only minimal discomfort during the healing process. Dr. Lehfeldt can answer your questions about this innovative technique and help you determine whether PrecisionTx® is ideal for your goals.
What Is Cellulaze® Treatment for Cellulite?
Do you have cellulite that you try to hide?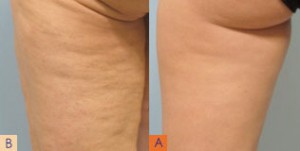 Now there is a true breakthrough in the battle against cellulite: Cellulaze®. Whereas most cellulite treatments address cellulite from the outside of the body, Cellulaze® goes below the skin and targets the "real" problem areas – fibrous tissue attachments, fat that is herniating through these fibrous bands, and thin skin.
Utilizing a proprietary laser known as SideLaze3D™, cellulite is precisely broken down via destruction of structural tissue fibrous bands. This laser can also increase skin thickness and elasticity over a period of six to eight months via collagen growth.
Cellulaze® can be added to a Smartlipo® in-office laser liposuction treatment (for contouring and removal of excess fatty deposits) or Cellulaze® can be performed as a standalone aesthetic treatment. As an in-office procedure, there is no need for additional operating room or anesthesia fees. Cellulaze® is performed under local anesthesia with oral medications. Most patients have only minimal discomfort while the treatment areas heal and can return to normal workouts and activity in just a few days.

If you would like more information on liposuction, cellulite treatment, or other procedures, please don't hesitate to schedule your complimentary cosmetic consultation with Dr. Lehfeldt today. Please call 888.96.DR.MAX (888.963.7629) or email us via our online contact form.