Eyelid Surgery (Blepharoplasty)
Eyelid surgery (blepharoplasty) can relieve common cosmetic concerns centered around the eyelid area. Heavy, tired-looking upper eyelids receive a refreshed, vibrant awakening with lifting and contouring, while lower eyelid "bags" can be smoothed for a more youthful appearance. Individuals struggling with upper lateral eyelid "hooding" may also find relief from the excessive drooping hindering their vision.
At Teleos Plastic Surgery, our board-certified plastic surgeon, Dr. Max Lehfeldt, can create a customized eyelid surgery treatment plan for both women and men who are interested in rejuvenating the eyelid areas for results that look more youthful and refreshed. Dr. Lehfeldt prides himself on maintaining and enhancing the feminine and masculine eyelid shape. Different approaches need to be used for men and women and not all surgeons appreciate this subtle but significant distinction.
What Are the Benefits of Eyelid Surgery?
Individuals seeking an appearance that better matches their mood – as opposed to seemingly appearing tired, sad, or older than they really are due to the aesthetic condition of their eyes – can often benefit from this popular treatment. Specific enhancements can include: 
Reduced excess and sagging skin around the eye areas 
Smoother, brighter skin below the eyes
Contoured volume without eye puffiness
Improved vision if hanging upper eyelid skin is causing a vision obstruction  
Even minor improvements to the eye areas can have an uplifting effect on one's overall facial appearance. With that in mind, it is important to know that a blepharoplasty is specific to the eyelid regions. If you have additional aesthetic goals for the mid to upper facial areas, Dr. Lehfeldt can discuss other treatment options, such as a brow lift, face lift, injectables, and laser treatments.
Am I a Candidate for an Eyelid Lift?
Ideal candidates for an eyelid lift are most often individuals interested in rejuvenating their appearance due to excess skin, skin laxity, and/or fat accumulation surrounding the eyelids. Those who would like to address a visual obstruction caused by overhanging upper eyelid skin may also be good candidates for this procedure. Possible concerns for upper eyelids, lower eyelids, or both that may be corrected with blepharoplasty include:
Moderate to severe sagging skin affecting the upper eyelids
Bulbous or darkened under-eye bags
Chronic puffy upper or lower lids due to excess fat
Drooping upper eyelid skin that impairs the visual field
Candidates for this procedure should also be in good health overall and have reasonable expectations for results. During your initial consultation with Dr. Max Lehfeldt, our plastic surgeon will talk with you about your needs and perform an examination to determine whether eyelid surgery is the best option for your goals. 
What Are the Types of Eyelid Surgery?
A blepharoplasty (commonly called eyelid surgery) revives the eye areas by removing and/or repositioning excess pockets of fat, skin, and muscle tissue. The outcome can either improve a patient's visual range and/or smooth the remaining delicate skin for a more youthful, vibrant appearance. Below are the two predominant types of eyelid surgery:
Upper Blepharoplasty
Upper eyelid rejuvenation consists of removing a small strip of excess upper eyelid skin. For many patients, this minimally invasive procedure can often be done in the office under local anesthesia without the added costs of the operating room and general anesthesia. Dr. Lehfeldt designs this procedure to create an enhanced and pleasing eyelid aesthetic while customizing the procedure for every patient. Upper eyelid surgery can be performed in less than an hour in the office. Swelling and minimal bruising may persist for about a week.
Lower Blepharoplasty
Lower eyelid surgery has several approaches – each designed to achieve a significant improvement while minimizing risks and complications. Dr. Lehfeldt takes an approach that repositions and repurposes lower eyelid fat to create a more youthful lower eyelid shape. This particular lower eyelid procedure leaves no scar on the outside of the eyelid because the surgery is performed using incisions inside the lower eyelid.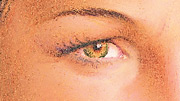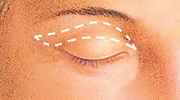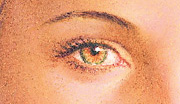 In cases where there is significant excess lower eyelid skin and bulging fat, a more traditional lower-eyelid incision may be required. Dr. Lehfeldt avoids removing lower eyelid fat, as this can often lead to a "hollow" and unsatisfactory result. During your consultation, your lower eyelid tissues will be evaluated to provide guidance regarding the optimal approach. Dr. Lehfeldt will often improve the lower eyelid tone as well by supporting the lid with specialized sutures (canthopexy). Lower eyelid surgery may require two weeks of recovery due to swelling and bruising.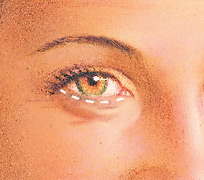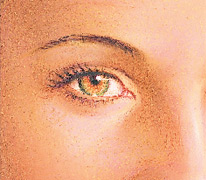 View Dr. Lehfeldt's before-and-after blepharoplasty gallery here.
What Does the Blepharoplasty Procedure Involve?
Blepharoplasty procedures are typically performed on an outpatient basis with either local or general anesthesia, and patients are able to return home the same day. The length of surgery depends on the type of treatment the patient is receiving. On average, an upper blepharoplasty is completed in less than an hour, while a lower blepharoplasty may take 60-90 minutes. The exact time of the surgery depends on the patient's unique treatment plan.
Once you meet with Dr. Max Lehfeldt and discuss your options, he will be able to provide greater details of what to expect during surgery based on the customized treatment plan.
What Can I Expect During Eyelid Surgery Recovery?
There is usually a minimal recovery time following a blepharoplasty procedure; however, the precise length of time for recovery will ultimately depend on the type of eyelid surgery performed, the techniques utilized, and each individual's unique anatomical response to the procedure. Once the surgery is complete, antibiotic ointments are applied to the eyelids and patients should avoid touching their eyes to reduce risks of infection and irritation. Patients may experience temporary bruising, swelling, soreness or tightness, sensitivity to light, blurriness, and tearing following surgery, but these symptoms should all resolve as the areas heal. Prescribed pain medications can be used as needed, along with cold compresses. Many patients can resume some daily activities within a few days and return to work within one to two weeks. Strenuous exercise/activities, as well as contact lenses and makeup, should be avoided for at least two to three weeks after surgery, or as long as recommended by our team.
How Much Does Eyelid Surgery Cost?
The total cost for eyelid surgery varies for each patient based on whether the upper and/or lower eyelids are treated, the complexities of the procedure, the type of anesthesia utilized, and other factors associated with the customized treatment plan. Dr. Max Lehfeldt meets with each patient to curate a specific treatment plan based on their individual concerns and goals, followed by a meeting with the office staff to review a detailed cost estimate and available payment and financing options. We will be happy to answer any questions you may have about the costs of eyelid surgery and talk with you about the convenient forms of payment accepted here at our practice.
Please contact our office for more information, or to schedule your cosmetic consultation with Dr. Lehfeldt.