Body Lift
Body lifts are tummy tucks that wrap around the body 360 degrees! Body lifts are appropriate for patients that have lost large amounts of weight (post-bariatric body contouring) and have excess skin and fat not only in the lower front of the abdomen, but also who have droopy buttocks, thigh tissue, and excess tissue on the sides and lower back. Body lifts have the advantage of improving not only the abdominal contour but also the buttocks, the sides, and the upper lateral thighs. Our Pasadena plastic surgeon, Dr. Max Lehfeldt, can even use some of the excess lower back tissue in a body lift to enhance the fullness of your buttock – restoring a more youthful and projecting buttock (gluteal auto-augmentation).
After Your Body Lift Procedure

Body lifting procedures can be done as an outpatient procedure with the help of the long-acting, local anesthetic EXPAREL®. EXPAREL® is a specialized long-acting local anesthetic that helps control pain for up to three days after surgery! It is a state-of-the-art medication that makes a big difference. Dr. Lehfeldt believes that EXPAREL® is more effective than even implantable pain pumps (On-Q) as EXPAREL® allows for better widespread distribution of the local anesthetic and there are no additional tubes or catheters. The use of EXPAREL® is yet another innovation that Dr. Lehfeldt has added to his procedures to give you the absolute best surgical experience, comfort, and results!
Many patients undergoing body lift elect to have additional aftercare support for a day or two post-operatively. Dr. Lehfeldt's cosmetic coordinator will provide additional information regarding aftercare options during your consultation. A body lift can also be done in a staged fashion. In order to reduce the recovery process, Dr. Lehfeldt can first remove the anterior excess skin and fat of the abdomen (tummy tuck). Then, a few months later the posterior buttock, low back, and excess tissue on the sides can be reshaped. Staging a body lift is a great way to break up the recovery and cost of a major body contouring procedure. Staging can also allow for an improved overall contour as it allows Dr. Lehfeldt a greater ability to remove more tissue in two separate operations.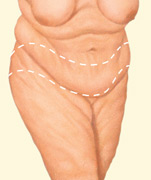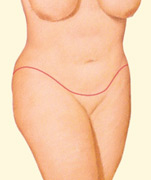 There is no doubt that body lifts can be transformative. Patients who have struggled with excess skin and fat following weight loss can significantly benefit from the body reshaping power of this procedure. Call us today at 888.96.DR.MAX (888.963.7629) or email to set up your cosmetic consultation with Dr. Lehfeldt!