Breast Lift
Breast lifting is a very popular procedure for many women and is one of the most popular procedures that our Pasadena plastic surgeon, Dr. Max Lehfeldt, performs.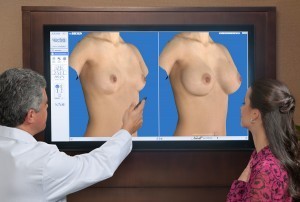 Using Vectra XT 3D Simulation, Dr. Lehfeldt will be able to help you visualize pre-operatively the potential benefits that breast lifting may provide for you! Many women are unhappy with the appearance of their breasts as they age. Over time, youthful breast volume is lost, the skin stretches out, and the nipples sag and droop. This is often exacerbated for women who have breastfed or who have experienced significant weight loss.
Breast lifting techniques strive to restore the breast shape to a more aesthetic and youthful appearance. Breast lifting involves removing breast skin to help raise the nipple position and reshape the sagging breasts. The trade-off for improved breast shape and size is fine scars. The location of the scars on the breast depend on the type of breast lifting technique utilized.
There are three main ways to lift the nipple position and perform a breast lift:
Circumareolar/Peri-Areolar lift (around the areola only)
Vertical lift ("lollipop lift")
Anchor or "Inverted-T" lift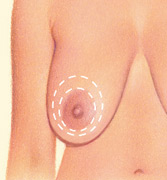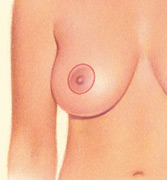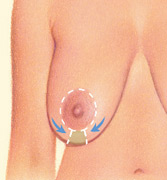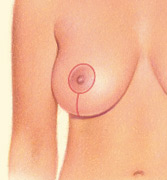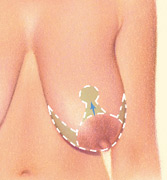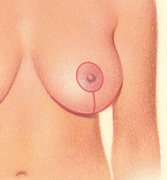 The type of lift required depends on how far the nipple position needs to be raised and the amount of excess breast skin. If the nipple has minimal droop, a circumareolar/peri-areolar lift can be effective. If the nipple droop is moderate then a vertical lift ("lollipop lift") may be the lift of choice. However, if the nipple is quite low (severe droop) and there is a lot of excess skin, an anchor or "inverted-T" lift may be required.
Dr. Lehfeldt performs all types of lifts with equivalent success and his experience and expertise will help guide your choice. Breast lifting can yield a beautiful restoration of breast shape and size. Patients are very pleased with the youthful re-positioning of the nipple. Breast lifting is a routine outpatient procedure (you go home the same day as surgery) that requires about a week of recovery. The incisions on the breasts are designed to heal as inconspicuously as possible. Dr. Lehfeldt is an absolutely meticulous perfectionist and he always strives to minimize the scarring and conceal the signs of surgery for all his patients!
If you are interested in learning if you are a candidate for breast lifting and to see which of the three surgical techniques would be ideal for your body type, please call 888.96.DR. MAX (888.963.7629) or email today!