Delayed Immediate Reconstruction
This is a "hybrid" reconstruction technique that uses an expander or implant at the time of mastectomy followed by a second operation with a flap procedure.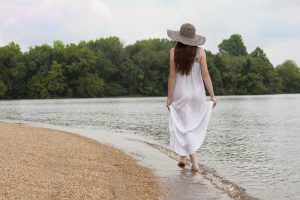 This approach is used for patients who are at high risk for post-mastectomy radiation. Radiation creates additional scar tissue that can damage the flap tissue. In order to minimize the damaging effects of the radiation and to maximize the preservation of breast skin, a temporary tissue expander or implant is placed at the time of the mastectomy to maintain the breast skin envelope. The expander or implant maintains the skin shape during radiation treatments. Following completion of the radiation therapy, the expander or implant is removed and replaced with a flap. This two-step technique allows for maximum preservation of breast skin while minimizing scarring and minimizing scar tissue formation within the flap from exposure to radiation.
More and more patients are requiring post-mastectomy radiation. Although radiation is often a critical component to successful rates of cure, it has a significant impact on breast reconstruction. Radiation may lead to high rates of scar tissue formation around breast implants (>50%). Radiated implants may become firm, tight, and even uncomfortable. This is known as capsular contracture. Flap reconstructions exposed to radiation can also develop areas of scar tissue and firmness (fat necrosis). Radiation does not preclude reconstruction, but it often requires additional surgical procedures (delayed/immediate reconstruction, etc.) to correct or prevent radiation-induced scar tissue. Radiated tissue is also associated with higher rates of wound healing problems and other complications.
Please call 888.96.DR.MAX (888.963.7629) or email to make your appointment with Dr. Max Lehfeldt.