DIEP Free Flap Microvascular Reconstruction
Flap reconstruction is ideal for the healthy patient with strong emotional motivation who is prepared to go through a more lengthy surgical and recovery process.
The aesthetic goal of a flap reconstruction is to "look good naked." Flap reconstructions often can create a very "natural" appearing reconstructed breast. Depending on the type of flap, the operating room time may be three to twelve hours. Hospital stays are often 3-5 nights, recovery time will be longer than with an expander/implant, and there is additional healing required for the flap donor site. There are also unique risks/complications associated with flap reconstruction.
Flap reconstruction is for the following situations:
When patients want natural tissue coverage.
When patients do not want to use implants.
When chest tissues have been damaged by radiation.
When extra tissue coverage is needed over a breast implant.
When a patient is not a suitable candidate for tissue expanders nor breast implants.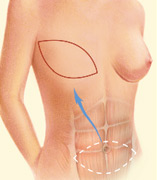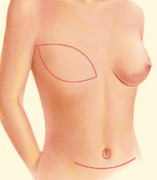 DIEP stands for Deep Inferior Epigastric Perforator flap. This is a state-of-the-art microsurgical breast reconstruction technique and requires specialized training and experience. As with the free TRAM flap, the fat and skin of the abdomen are moved to create a new breast mound. Microsurgery is involved to reattach the blood supply to the tissue. Operating room time varies depending on patient anatomy and whether one or both breasts are being reconstructed. The procedure may require four to twelve hours in the operating room. The hospital stay is generally three to five days. Recovery time is usually 8-10 weeks. The major advantage of the DIEP flap is that all of the abdominal muscle is preserved and abdominal wall function is usually maintained. (As compared with free TRAM or pedicle TRAM flaps). This is particularly critical for bilateral (both) breast reconstructions. Biological mesh is rarely required to repair the abdominal flap donor site of a DIEP free flap.
If you are considering breast reconstruction, please call 888.96.DR.MAX (888.963.7629) or email to make your appointment with Dr. Lehfeldt.