Muscle-Sparing TRAM Microvascular Reconstruction
During a TRAM flap (Transverse Rectus Abdominis Musculocutaneous) procedure, the surgeon removes skin, fat, and muscle from your abdomen and moves it to your chest to reconstruct the breast. There are two types of TRAM reconstruction:
Pedicle TRAM Flap
A pedicle TRAM flap procedure harvests the entire rectus muscle from the abdominal wall. This often results in compromised abdominal wall function (inability to sit up). In addition, because the surgery sacrifices the abdominal muscle, artificial mesh is often required to repair the abdominal donor site and the rate of postoperative hernia and bulge are higher compared with free TRAM and DIEP free flaps. Pedicle TRAM flaps are not advised for bilateral reconstructions due to the sacrifice of both rectus muscles. Fat necrosis (firming up of the flap tissue) rates are also higher with pedicle TRAM flaps as the blood supply is not as robust as a free flap.
Free TRAM Flap
This is in contrast to a microsurgical muscle-sparing TRAM flap that utilizes only a small portion of muscle (free TRAM flap). Microsurgical or free TRAM flaps have the distinct advantage of minimizing abdominal weakness and maximizing the size of the flap. With only a small amount of muscle harvested, there often is no need for artificial mesh reinforcement of the abdominal donor site. Fat necrosis (firming up of the flap tissue) rates are also lower.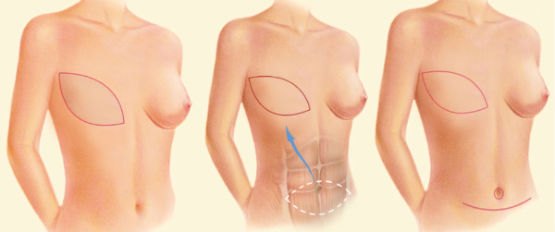 If you are thinking about breast reconstruction, please call 888.96.DR.MAX (888.963.7629) or email to make your appointment with Dr. Lehfeldt.