TUG Free Flap Microvascular Reconstruction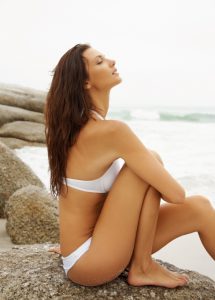 The Transverse Upper Gracilis (TUG) flap is a specialized free flap breast reconstruction that uses skin/fat and a small portion of muscle from the inner thigh. It is a good option for patients who desire a reconstruction using their own tissue but who are thin and lack sufficient tissue in the lower abdomen. The TUG uses the excess inner thigh tissue that is often removed in inner thigh lifts. A crescent of skin and fat is removed along with a small piece of gracilis muscle. Removal of the tissue and a small portion of this muscle does not compromise lower leg function. This tissue is then transferred to the chest, microsurgically attached, and shaped into a breast mound. The TUG flap does not provide a lot of tissue but is often sufficient for smaller breasted, thinner patients. There can sometimes be healing issues associated with the TUG harvest site. However, the scars are often inconspicuous. Our skilled plastic surgeon, Dr. Max Lehfeldt, has performed numerous TUG flaps with great success. The aesthetic results of the TUG flap can be quite pleasing and natural.
If you are considering having breast reconstruction, please call 888.96.DR.MAX (888.963.7629) or email to make your appointment with Dr. Lehfeldt.