Helpful Links
Canfield Vectra XT 3-D Imaging Technology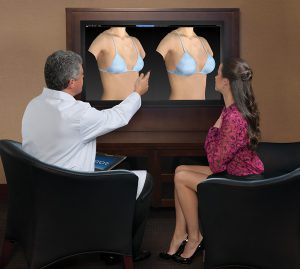 Our newest, most advanced cosmetic and reconstruction imaging technology – the Canfield Vectra XT 3-D Imager. This amazing simulation tool allows Dr. Max Lehfeldt to show patients during their consultation a precise illustration of what to expect after their cosmetic surgery! Dr. Max takes a photo of the surgical site and utilizing the Vectra XT, is able to help patients visualize, according to their unique body structure, what they will look like after surgery.
3-D Imaging helps with cosmetic and reconstructive surgery of the FACE, BREAST, or BODY! Dr. Max can even simulate improvement after dermal fillers like JUVÉDERM® and Radiesse®!
Breast augmentation is typically sized with an implant in a bra, but with this new 3-D Imaging Technology, digital breast implant size and profile will be visualized in the office and patients can decide which implant will give them the most beautiful outcome! In addition, breast lift can now be simulated with the Vectra!
Just come in for your cosmetic consultation, take a photo with the Canfield 3-D Imager, and see more accurately what you would look like with different breast implant sizes and profiles! All before surgery!
Pinxwear Clothing and Accessories
Basics for Managing Breast Cancer in Style.
Dr. Lehfeldt performs a great deal of breast reconstruction for breast cancer patients. He refers his patients and their families to this website. Pinxwear was created in 2009 by Cathy Meek, a breast cancer survivor. She created this line of high quality breast cancer products for patients who want clothing and accessories that are as fashionable and luxurious as they are functional. Families are also able to purchase gifts for their loved ones who are going through the breast cancer journey; these items help make the road to recovery stylish and comfortable.
Call/text Pinxwear directly at 626.422.4535 or email to place your order as Dr. Lehfeldt's patients will receive 15% OFF and FREE shipping. Promo code drmax15. Local delivery to Pasadena area available as well – please inquire when placing your order.