Dr. Max Lehfeldt Explains What to Consider While Selecting a Qualified Plastic Surgeon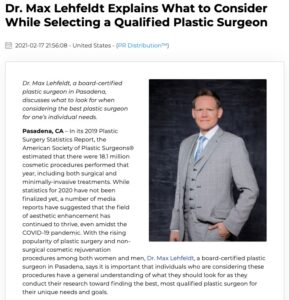 Dr. Max Lehfeldt, a board-certified plastic surgeon in Pasadena, discusses what to look for when considering the best plastic surgeon for one's individual needs.
Pasadena, CA – In its 2019 Plastic Surgery Statistics Report, the American Society of Plastic Surgeons® estimated that there were 18.1 million cosmetic procedures performed that year, including both surgical and minimally-invasive treatments. While statistics for 2020 have not been finalized yet, a number of media reports have suggested that the field of aesthetic enhancement has continued to thrive, even amidst the COVID-19 pandemic. With the rising popularity of plastic surgery and non-surgical cosmetic rejuvenation procedures among both women and men, Dr. Max Lehfeldt, a board-certified plastic surgeon in Pasadena, says it is important that individuals who are considering these procedures have a general understanding of what they should look for as they conduct their research toward finding the best, most qualified plastic surgeon for their unique needs and goals.
Dr. Lehfeldt says one of the first indications that a plastic surgeon is extensively qualified and skilled in an array of plastic surgery procedures is whether the surgeon is certified by the American Board of Plastic Surgery. He explains that doctors must pass rigorous exams and must prove their skills and experience to become certified by the ABPS. They must also espouse a commitment to extremely high standards of care, as well as a lifelong dedication to continuing education in order to maintain their skills and knowledge as the field of plastic surgery advances into the future. As the Director of Teleos Plastic Surgery and Radiance Spa Medical Group in the Pasadena and La Cañada area, Dr. Lehfeldt says his own board-certification, along with his training and continued education, has allowed him to provide his patients with a broad array of plastic surgery and non-surgical medical spa options that are specifically customized for each patient. Ultimately, he says, the combination of an experienced plastic surgeon and personalized treatment plans can help produce results that meet patient expectations while looking as natural as possible.
According to Dr. Max Lehfeldt, there are three major things that individuals should evaluate while searching for a plastic surgeon who can successfully meet their goals:
Experience, Education, and Credentials
Before-and-After Photos
Individual Rapport
By researching a potential plastic surgeon's background, one can get an idea of his or her level of education, training, and skills. This information is often available on the plastic surgeon's website. With before-and-after treatment photos, Dr. Lehfeldt says an individual can see the results of specific procedures that the surgeon has been able to produce for some of his or her own patients. And finally, once an individual has narrowed down their choices, an initial consultation with a potential plastic surgeon can help them evaluate their overall comfort and rapport with the doctor they are considering. Dr. Lehfeldt says this is a particularly important step because it can help patients determine their level of confidence with the surgeon. It also provides patients with the opportunity to ask numerous questions on a one-on-one basis and assess whether the surgeon is genuinely listening to their concerns, attentive to their needs, forthcoming about what certain procedures can and can't do, and honest about whether specific treatments are ideal or not ideal for the patient's unique needs and goals. Dr. Lehfeldt says patients should feel confident that their concerns are being addressed from the outset and that the surgeon is someone who will be a true partner throughout the journey—one who is not only capable of providing safe and compassionate care, but also results that can meet or even exceed their expectations.
Dr. Lehfeldt emphasizes that choosing to undergo any kind of plastic surgery or aesthetic enhancement procedure is a major step in one's life; therefore, the selection of the plastic surgeon is a vital aspect of the process. He says that if the plastic surgeon has the credentials and experience to perform the procedure of interest, and if patients are able to feel confident in the doctor's care and trust that the surgeon is a skilled and attentive provider, the achievement of satisfactory results and an overall successful treatment process is often much more likely.
About Max R. Lehfeldt, MD, FACS
A Fellow of the American College of Surgeons, Dr. Max Lehfeldt, MD, FACS is certified by the American Board of Plastic Surgery and serves as the Director of Teleos Plastic Surgery and Radiance Spa Medical Group. He is also a member of The Aesthetic Society® (also known as the American Society for Aesthetic Plastic Surgery), the American Society of Plastic Surgeons, and other medical organizations. Dr. Max Lehfeldt graduated with honors from Yale University and went on to earn his medical degree from the University of Southern California-Keck School of Medicine. He later completed an integrated general surgery and plastic surgery residency at that same institution. Dr. Lehfeldt has been honored with "Top Doctor" recognitions in Pasadena Magazine for 13 consecutive years, 2007-2020. He has also been recognized as "Best Cosmetic Surgeon" multiple times in Pasadena Weekly Magazine. His practices offer an extensive selection of plastic surgery and non-surgical aesthetic rejuvenation options, including breast surgery, facial enhancement, body contouring, and treatments to renew both the health and appearance of the skin.
For more information about Dr. Lehfeldt and his practice, please visit teleosplasticsurgery.com and facebook.com/DrMaxPlasticSurgery.
Contact:
Teleos Plastic Surgery / Radiance Spa Medical Group
836 South Arroyo Parkway
Pasadena, CA 91105
(888) 963-7629
Radiance Spa Medical Group
La Cañada Office:
707 Foothill Blvd., Ste. 2
La Cañada, CA 91011
(855) 723-7721
Rosemont Media
(858) 200-0044
www.rosemontmedia.com