Dr. Max Lehfeldt is Celebrating His Plastic Surgery Practice's 13th Year in Pasadena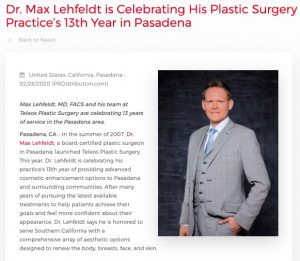 Max Lehfeldt, MD, FACS and his team at Teleos Plastic Surgery are celebrating 13 years of service in the Pasadena area.
Pasadena, CA – In the summer of 2007, Dr. Max Lehfeldt, a board-certified plastic surgeon in Pasadena, launched Teleos Plastic Surgery. This year, Dr. Lehfeldt is celebrating his practice's 13th year of providing advanced cosmetic enhancement options to Pasadena and surrounding communities. After many years of pursuing the latest available treatments to help patients achieve their goals and feel more confident about their appearance, Dr. Lehfeldt says he is honored to serve Southern California with a comprehensive array of aesthetic options designed to renew the body, breasts, face, and skin.
Dr. Lehfeldt is a native of Redding, California and a second-generation physician. After completing his dual general and plastic surgery residencies at USC, Dr. Lehfeldt took the lead of Radiance Spa Medical Group—a full-service medical spa in La Cañada offering an array of non-surgical and minimally-invasive cosmetic treatments—and subsequently opened Teleos Plastic Surgery in Pasadena. At Teleos, Dr. Lehfeldt wanted to provide individuals considering plastic surgery and aesthetic enhancement with a vast selection of treatments that are customized to their unique needs and goals. The expansive range of plastic surgery options at the practice include breast surgery procedures such as breast augmentation and breast lift, facial plastic surgery procedures including facelift, rhinoplasty, and eyelid surgery, and body contouring treatments such as tummy tuck, liposuction, and many others. As the field of cosmetic enhancement continued to advance over the years, Dr. Lehfeldt brought a variety of state-of-the-art procedures to the practice that were designed to deliver effective results utilizing less invasive treatment methods. Options such as CoolSculpting® non-surgical fat reduction, laser skin resurfacing, BOTOX® Cosmetic and injectable dermal fillers, and many other non-surgical treatments for skin care and aesthetic enhancement were added to the selection of options at both Teleos Plastic Surgery and Radiance Spa Medical Group to help patients who may not need major surgery to successfully achieve their individual goals.
Recognized as a Top Doctor by Pasadena Magazine many times over the years, Dr. Lehfeldt regularly pursues clinical research and remains open to new advances in plastic surgery and aesthetic enhancement in order to provide patients with the latest techniques designed to achieve exceptional, natural-looking results. He notes that his mission at both Teleos Plastic Surgery and at Radiance Spa Medical Group is to continue to provide a comfortable, relaxing environment along with an extensive selection of high-quality procedures, customized treatment plans, and an attentive, compassionate approach to care that can genuinely help patients meet their expectations and feel great about the way they look.
About Max Lehfeldt, MD, FACS
Max Lehfeldt, MD, FACS is certified by the American Board of Plastic Surgery and is a Fellow of the American College of Surgeons. Dr. Lehfeldt is also a member of the American Society of Plastic Surgeons and the American Society for Aesthetic Plastic Surgery. After graduating from Yale University with a degree in Molecular Physics and Biochemistry, Dr. Lehfeldt earned his MD at the University of Southern California-Keck School of Medicine, and completed his general and plastic surgery residencies at USC. He was recognized as one of Pasadena Magazine's Top Doctors for every year from 2007-2017, and he has been listed as a "Best Cosmetic Surgeon" in Pasadena Weekly Magazine.
For more information about Dr. Lehfeldt and his practice, please visit teleosplasticsurgery.com and facebook.com/DrMaxPlasticSurgery.
Contact:
Teleos Plastic Surgery / Radiance Spa Medical Group
836 South Arroyo Parkway
Pasadena, CA 91105
(888) 963-7629
Radiance Spa Medical Group
La Cañada Office:
707 Foothill Blvd., Ste. 2
La Cañada, CA 91011
(855) 723-7721
Rosemont Media
(858) 200-0044
www.rosemontmedia.com