Dr. Max Lehfeldt Named One of Pasadena Magazine's "Top Doctors" for 14th Consecutive Year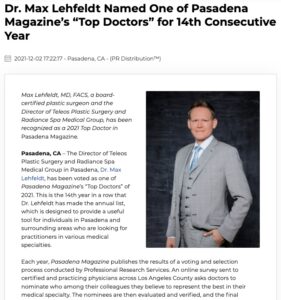 Max Lehfeldt, MD, FACS, a board-certified plastic surgeon and the Director of Teleos Plastic Surgery and Radiance Spa Medical Group, has been recognized as a 2021 Top Doctor in Pasadena Magazine.
Pasadena, CA – The Director of Teleos Plastic Surgery and Radiance Spa Medical Group in Pasadena, Dr. Max Lehfeldt, has been voted as one of Pasadena Magazine's "Top Doctors" of 2021. This is the 14th year in a row that Dr. Lehfeldt has made the annual list, which is designed to provide a useful tool for individuals in Pasadena and surrounding areas who are looking for practitioners in various medical specialties.
Each year, Pasadena Magazine publishes the results of a voting and selection process conducted by Professional Research Services. An online survey sent to certified and practicing physicians across Los Angeles County asks doctors to nominate who among their colleagues they believe to represent the best in their medical specialty. The nominees are then evaluated and verified, and the final selections for Top Doctor recognition are announced. Doctors cannot pay for placement on the Top Doctors list.
Now honored with the Top Doctor designation for 14 consecutive years (2007-2021), Dr. Max Lehfeldt says this distinction continues to strengthen his dedication to a philosophy of care based on providing an attentive, compassionate approach in combination with completely customized treatment plans designed to help patients successfully achieve their goals. The comprehensive array of plastic surgery and non-surgical aesthetic rejuvenation procedures at Dr. Lehfeldt's practices include facial enhancement, breast augmentation, tummy tuck surgery, cosmetic injectables, laser skin resurfacing, medical-grade skin care products, and many other options designed to provide effective aesthetic renewal. With so many advanced treatments to choose from, Dr. Lehfeldt says individuals now have more ways than ever to enhance their appearance with natural-looking results.
About Max R. Lehfeldt, MD, FACS
Dr. Max Lehfeldt, MD, FACS is certified by the American Board of Plastic Surgery. He is also a Fellow of the American College of Surgeons and a member of the American Society of Plastic Surgeons, The Aesthetic Society® (previously referred to as the American Society for Aesthetic Plastic Surgery) and other organizations. Dr. Max Lehfeldt is an honors graduate of Yale University. After earning his medical degree from the University of Southern California-Keck School of Medicine, Dr. Lehfeldt completed an integrated general surgery and plastic surgery residency at USC and went on to serve as the Director of Teleos Plastic Surgery and Radiance Spa Medical Group. In addition to this latest honor, Dr. Max Lehfeldt has also been recognized multiple times as "Best Cosmetic Surgeon" in Pasadena Weekly Magazine.
For more information about Dr. Lehfeldt and his practice, please visit teleosplasticsurgery.com and facebook.com/DrMaxPlasticSurgery.
Contact:
Teleos Plastic Surgery / Radiance Spa Medical Group
836 South Arroyo Parkway
Pasadena, CA 91105
(888) 963-7629
Radiance Spa Medical Group
La Cañada Office:
707 Foothill Blvd., Ste. 2
La Cañada, CA 91011
(855) 723-7721
Rosemont Media
(800) 491-8623
www.rosemontmedia.com