Dr. Max Lehfeldt Unveils New Website Detailing the Pasadena Plastic Surgeon's Experience and Philosophy of Care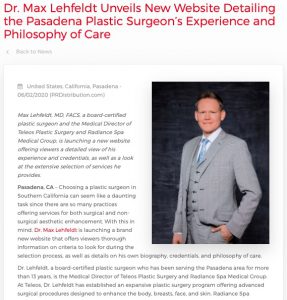 Max Lehfeldt, MD, FACS, a board-certified plastic surgeon and the Medical Director of Teleos Plastic Surgery and Radiance Spa Medical Group, is launching a new website offering viewers a detailed view of his experience and credentials, as well as a look at the extensive selection of services he provides.
Pasadena, CA – Choosing a plastic surgeon in Southern California can seem like a daunting task since there are so many practices offering services for both surgical and non-surgical aesthetic enhancement. With this in mind, Dr. Max Lehfeldt is launching a brand new website that offers viewers thorough information on criteria to look for during the selection process, as well as details on his own biography, credentials, and philosophy of care.
Dr. Lehfeldt, a board-certified plastic surgeon who has been serving the Pasadena area for more than 13 years, is the Medical Director of Teleos Plastic Surgery and Radiance Spa Medical Group. At Teleos, Dr. Lehfeldt has established an expansive plastic surgery program offering advanced surgical procedures designed to enhance the body, breasts, face, and skin. Radiance Spa Medical Group is focused on non-surgical and minimally-invasive cosmetic enhancement options, and serves patients in two locations: Pasadena and La Cañada. While Dr. Lehfeldt's new website does include helpful links to his sites that detail specific treatments and procedures available at his practices, it is primarily focused on introducing viewers to his extensive educational background and training history, tips on how individuals can find a highly-qualified plastic surgeon, and his comprehensive approach to care. The new website explores Dr. Lehfeldt's commitment to spending time with each of his patients and genuinely listening to their concerns, which he believes is the first step in developing a customized treatment plan, providing them with a smooth treatment process, and producing results that successfully achieve their goals.
The new website, a collaboration with medical website design firm Rosemont Media, has been created in such a way that it can be easily accessed and viewed in its full form on numerous digital platforms, including laptops, desktop computers, and smartphones. Since
interest in plastic surgery and other aesthetic treatments has continued to rise over the years among both women and men, Dr. Lehfeldt hopes that focused websites such as this one can help viewers get a fuller picture of specific practices and the type of service they can expect.
About Max R. Lehfeldt, MD, FACS
Max Lehfeldt, MD, FACS is an honors graduate of Yale University and obtained his medical degree from the University of Southern California-Keck School of Medicine. He also completed his integrated general surgery and plastic surgery residency at USC, and began practicing plastic surgery shortly thereafter. Dr. Max Lehfeldt is certified by the American Board of Plastic Surgery and is a member of the American Society of Plastic Surgeons and the American Society for Aesthetic Plastic Surgery. He is also a Fellow of the American College of Surgeons and other prestigious medical organizations. Dr. Lehfeldt has been named one of Pasadena Magazine's "Top Doctors" for 12 consecutive years (2007-2019), and has also been recognized several times as "Best Cosmetic Surgeon" in Pasadena Weekly Magazine.
For more information about Dr. Lehfeldt and his practice, please visit drmaxlehfeldtmd.com and facebook.com/DrMaxPlasticSurgery.
Contact:
Teleos Plastic Surgery / Radiance Spa Medical Group
836 South Arroyo Parkway
Pasadena, CA 91105
(888) 963-7629
Radiance Spa Medical Group
La Cañada Office:
707 Foothill Blvd., Ste. 2
La Cañada, CA 91011
(855) 723-7721
Rosemont Media
(858) 200-0044
www.rosemontmedia.com