Is it Safe to Visit the Plastic Surgeon's Office?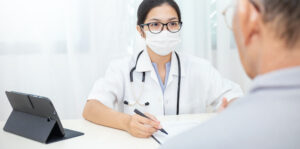 As we all do our best with the many challenges and daily adjustments necessary to get through the COVID-19 pandemic, it is understandable that many individuals have concerns about whether it's safe to visit plastic surgery and cosmetic enhancement practices for elective procedures. While many offices providing these types of services were temporarily closed across the country during the first few months of the pandemic, a large number of them—including Teleos Plastic Surgery—were able to reopen several months ago. The key to determining whether you feel safe with the prospect of visiting the plastic surgeon's office for in-person consultations and treatment is to find out what kind of precautions the practice is taking to limit potential exposure to the coronavirus while still providing the quality care you expect.
Here at Teleos Plastic Surgery and at our medi spa offices – Radiance Spa Medical Group – Dr. Max Lehfeldt has implemented an extraordinary level of precautions to mitigate risks in order to keep our patients and all of our team members as safe and healthy as possible. It is very important to remember that, as a fully equipped plastic surgery practice, many strict sterilization and disinfection protocols were already in place long before the pandemic began. For instance: Teleos Plastic Surgery is home to an advanced outpatient surgery center that has been accredited by the American Association for Accreditation of Ambulatory Surgical Facilities. AAAASF accreditation is an indication that the facility adheres to extremely high standards of care for outpatient surgical procedures. As part of our enhanced coronavirus precautions, our surgical team employs a one-on-one "concierge" approach by only treating one patient per day in our outpatient surgical facility, and Dr. Lehfeldt serves as the only surgeon who operates at our surgery center.
Additionally, both of our practices have been utilizing COVID-19 safety standards and recommendations from the American Society of Plastic Surgeons as well as the U.S. Centers for Disease Control and other federal and state health authorities. HEPA filtration systems strategically placed throughout our offices, the use of personal protective equipment (PPE), and strict requirements for facial masks and social distancing in our office environment are some of the most notable precautions we are taking to minimize the risk of potential exposure to viruses and pathogens. We have also created new protocols for scheduling and office visits that are designed to keep the number of people in the office at one time to a minimum. These protocols include an outside reception desk where incoming visitors can have a quick temperature check and receive a COVID-19 questionnaire before entering the office environment.
Over the last several months, reports from the American Society of Plastic Surgeons have indicated that interest in cosmetic enhancement procedures such as BOTOX® injections, breast augmentation, liposuction, and other options has not significantly diminished, even in the midst of the pandemic. But concerns about the risk of possible exposure to the coronavirus is very much on the minds of many individuals. Here at Teleos Plastic Surgery and Radiance Spa Medical Group, our practice is overseen by an experienced, board-certified plastic surgeon, Dr. Max Lehfeldt, and a skilled team of professionals who make your overall safety and health their number one priority. The many additional precautions taken and the environmental enhancements we have made are designed to not only minimize risks, but also to provide you with the comfort and confidence of knowing that we are genuinely committed to helping you receive the best care in the safest way possible.
Ultimately, the safety of a plastic surgeon's office can be greatly increased if the appropriate precautions are taken. Ensuring that certain protocols are in place and asking any questions you may have about what practices are doing to minimize coronavirus risks are some of the best ways to address your concerns and subsequently obtain the treatment you are considering!
If you are interested in plastic surgery or non-surgical aesthetic enhancement, please don't hesitate to contact Teleos Plastic surgery today.