Pasadena Plastic Surgeon Details Typical Costs Associated With Breast Augmentation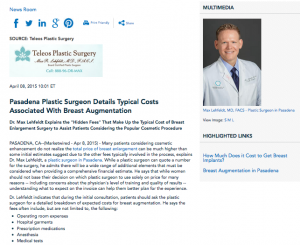 Dr. Max Lehfeldt explains the "hidden fees" that make up the typical cost of breast enlargement surgery to assist patients considering the popular cosmetic procedure.
Pasadena, CA—Many patients considering cosmetic enhancement do not realize the total price of breast enlargement can be much higher than some initial estimates suggest due to the other fees typically involved in the process, explains Dr. Max Lehfeldt, a plastic surgeon in Pasadena. While a plastic surgeon can quote a number for the surgery, he admits there will be a wide range of additional elements that must be considered when providing a comprehensive financial estimate. He says that while women should not base their decision on which plastic surgeon to use solely on price for many reasons–including concerns about the physician's level of training and quality of results–understanding what to expect on the invoice can help them better plan for the experience.
Dr. Lehfeldt indicates that during the initial consultation, patients should ask the plastic surgeon for a detailed breakdown of expected costs for breast augmentation. He says the fees often include, but are not limited to, the following:
     Operating room expenses
     Hospital garments
     Prescription medications
     Anesthesia
     Medical tests
Furthermore, Dr. Lehfeldt adds that the figure will increase or decrease based on the years of experience the surgeon has, the type of breast implants used, the technique utilized to place them, and even the geographic location. Emphasizing the importance of skill and comfort over price, he urges patients to choose a board-certified plastic surgeon that makes them feel at ease, understands their aesthetic goals, and has a history of excellent results rather than focus too intently on cost. Quotes can help narrow the physician selection and remove any outliers at either end of the spectrum, he clarifies; they should not be used to find the lowest available price.
Ultimately, Dr. Lehfeldt believes offering financial transparency can help patients considering cosmetic enhancement procedures like breast augmentation, as they may not realize all the expenses involved. He also suggests that women who prefer to pay over time should consider using one of the many reputable financial lending companies, such as CareCredit™ and Alphaeon™, which offer reasonable monthly payment plans for qualified applicants.
About Max Lehfeldt, MD, FACS
Certified by the American Board of Plastic Surgery, Dr. Lehfeldt received his bachelor's degree from Yale University where he graduated with honors. He went on to earn his medical degree from the University of Southern California-Keck School of Medicine where he also completed a dual residency in general and plastic surgery. In addition to specializing in procedures for the face, breast, and body, he is an active member of several prestigious medical associations, including the American Society for Aesthetic Plastic Surgery (ASAPS) and the American Society of Plastic Surgery (ASPS). Dr. Lehfeldt is available for interview upon request.
For more information about Dr. Lehfeldt and his practice, please visit teleosplasticsurgery.com and facebook.com/DrMaxPlasticSurgery.
Contact:
Teleos Plastic Surgery
836 South Arroyo Pkwy
Pasadena, CA 91105
(888) 96-DR MAX
(888) 963-7629
Rosemont Media
(858) 200-0044
www.rosemontmedia.com