Natrelle® 410 Shaped Gel Breast Implants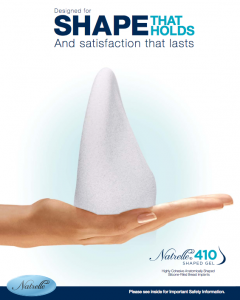 They are here!!!
You've heard of the "Gummy Bear" breast implants – highly cohesive anatomically shaped silicone-filled breast implants – and they are now FDA-approved and available to all patients! Designed with a shape that mirrors a woman's real curves – these breast implants give women a natural breast shape that holds.
The Natrelle 410 Shaped Gel Breast Implant has over 20 years of positive results in Europe. This implant was designed to maintain its shape yet still be soft and natural feeling. In addition, these shaped gel implants have a 69% lower capsular contracture rate than round silicone-filled breast implants. (Capsular contracture is the #1 reason for reoperation).
Women with breast implants often complain of rippling and wrinkling of the implant under the skin – with the new shaped gel implants, there is less than 1% wrinkling/rippling!

Come in today for your complimentary cosmetic consultation with Dr. Max for the "#1 selected shaped implant by surgeons", with a 96.5% satisfaction at 7 years, and selected 2 to 1 for "most natural feel".